---
BeaconCommunity Foundation gave out $12,500 in its annual round of grants on Monday November 2nd, they are: The Lutheran Church is for next year's...
---
At the regular Scobey School board meeting on Monday, November 2nd about 20 people from the staff and public were in attendance. During ...
---
Veterans will be honored on Veterans Day, November 11 at two local programs. In Opheim a program will be held at the school at 10 a.m. with sp...
---
MYLES ALFRED Born in Billings on Monday, November 2 to Luke and Paula Dighans, a six pound fifteen ounce, nine - teen and one quarter inch boy,...
---
DanielsMemorialHealth- care Center in Scobey found itself shorthanded staff-wise due to illnesses and knew something had to be done as soon as ...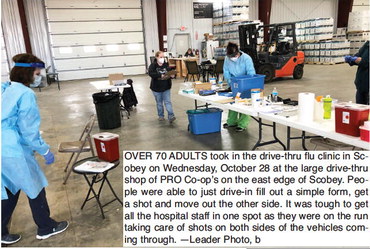 ---
OVER 70 ADULTS took in the drive-thru flu clinic in Sc - obey on Wednesday, October 28 at the large drive-thru shop of PRO Co-op's on the east ...