Posted on
Scobey Spikers See Season End In Two Matches At East C Divisional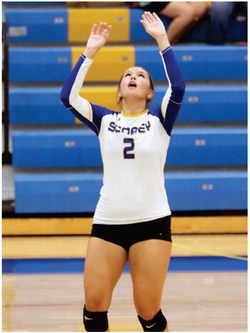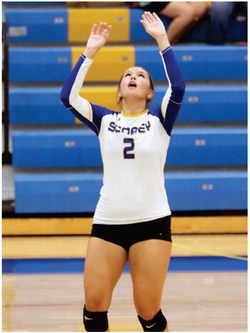 The Scobey Spartans' time at the East C Divisional Girls' Volleyball Tournament at Sidney High School didn't last long as they were eliminated in the span of eight games in two matches over a time frame of 21 hours and 56 minutes.
Seeing much more oncourt time were the Powder River County Hawks of Broadus and the North Country Mavericks of the Saco, Whitewater and Hinsdale communities. They placed first and second respectively, and earned berths in this week's All-Class State Meet at Montana State University in Bozeman.
Scobey's appearance in the divisional tourney began at 4:03 p.m. Thursday, November 2, when facing the Savage Warriors, the runnersup at the District 2C Tournament.
A big hit by Mady Willis gave the Spartans the early 1-0 advantage but the score stayed tight as ties at 1, 2, 4, 5 and 6 followed. At this point Scobey created a little separation when Camrie Holum smacked a service ace landing just inside the line for a 7-6 lead. She followed with another one making it 9-6. The gap grew to 12-8 on a Kaytie Aanstad block and then 14-9 when she pounded a kill to the hardwood.
The Warriors fought back by knotting it at 18 and 19 before taking the lead only to watch Aanstad knot it again at 21. Holum smacked back-to-back kill shots giving the Spartans game-point at 24-22.
The match became extremely interesting at this point.
Savage tallied twice making it 24-all, meaning the eventual victor of the game would have to win by two points.
The Warriors went ahead 25-24 and 26-25 but Scobey knotted it both times. The Spartans went ahead 27-26 as Savage hit the ball out of bounds but then it was 27-up. Brooke Reuter's service ace gave the Warriors a 28-27 advantage but her serve to follow sailed out of bounds making it 28all. Scobey eighth grader Chloe Handran's kill shot was good giving her team a one-point lead. Savage tied it at 29 and went ahead 3029 but the Spartans tied it at 30. Willis scored making it 31-30, the Warriors did the same resulting in 31-31. The game finally came to a ...