Posted on
Prep Playoff Preview, Week 3 Two Games Close To Daniels County, Eight Not As Semifinals Go This Week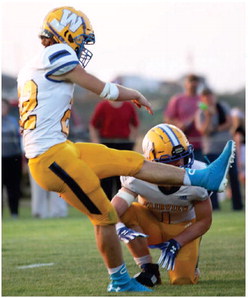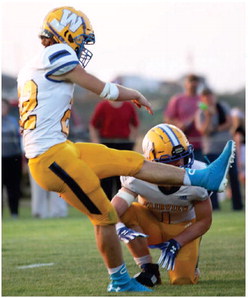 Northeast Montana football fans are in tremendous luck this weekend as two of the 10 semifinal games of the Montana High School Association football playoffs are very close to home.
Maybe 124-mile and 250-mile round trips for some people are long but for football fanatics in Big Sky Country it ain't nothin'!
The short one, the 124-miler from Scobey and back, is at Medicine Lake where the Froid-Lake Redhawks (10-0, 648-189, 64.8-18.9) host the Harlowton-Ryegate Enginners (10-1, 632-307, 57.4-27.9) Saturday, November 11, at 1 p.m. Both were involved in "defensive battles" last week in the quarterfinals: the Redhawks nipped Chester-Joplin-Inverness in Chester 79-75 and the Engineers edged Hot Springs 65-60 waaaay out west. The sole loss by the Engineers was a 71-34 setback to the home-standing Centerville Miners on the final weekend of the regular season. Other than that the closest any other team has come to derailing the Engineers was C-J-I in a 51-28 final.
The 250-mile round tripper, also from Scobey, will take one's crew to Starr Field, home of the Fairview Warriors (10-0, 558-144, 55.8-14.4). They are hosting the Fort Benton Longhorns (8-2, 422-251, 42.2-25.1) at 1 p.m. on Saturday. Only one team has come close to defeating the Warriors this season and that was the Belt Huskies, who lost 21-20 in week one in a neutral-site game in Winifred (the next closest to Fairview was Culbertson at 46-20).
The next closest semifinal matchups from Daniels County are in Custer (286 miles one-way through Brockway) followed by Belt (362 miles one-way via Havre and Highwood; 374 miles one-way via Circle and Lewistown). After that one ...