Posted on
Scobey Gridders Look For First Conference Win Versus Poplar
Kickoff Is Friday, September 29, At 7 p.m.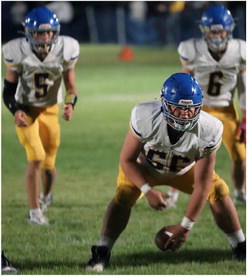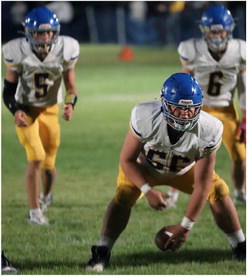 Close but no climb out of the East C 8-Man basement for the Scobey varsity football team after dropping a 16-8 decision to the Culbertson Cowboys.
Played Thursday, September 14, on Culbertson's C Bar C Field, weather wasn't a factor as it was a beautiful 67 degrees and calm as the sun was dipping below the northwestern horizon at the 6:59 p.m. kickoff, which was returned 19 yards by Aiden Leibrand out to the 20-yard line.
Four rushes, 11 yards and a first down later the Spartans went to the air attack for the first time but Culbertson's Reese Moon picked off the pass and the Cowboys took possession at their own 33-yard line. Following a 3-yard rush, Trevor Miller bolted along the west sideline for 31 yards and a fresh four downs. Quarterback Bridger Salvevold rushed on the next two plays, scoring on a 2-yarder. He connected with Mark Kirkaldie for the 2-point conversion pass for an 8-0 advantage just 3 minutes and 7 seconds into the contest.
Scobey, following a 19yard kickoff return by senior Braxton Wolfe, started its second possession at its own 26-yard line. Sophomore runningback Brecken Maher took five handoffs and turned them into 25 yards and also gained four yards on a pass reception. Freshman Torsten Lamb added two yards on three carries and grabbed a 10-yard pass while freshman Kolten Machart caught a 4-yard pass for four yards and a first down. Wolfe rushed for 3, 7 and 2 yards, the latter worth six points. Maher tacked on the 2-point conversion rush and at the 1:39 mark it was a tie at 8-all.
That's the way it would stay for the next 29:25 of
game clock.
Scobey's final three possessions of the first half ended with a punt, turnover on downs and clock striking zero on Culbertson's 39-yard line. In the third period the Spartans punted and were int...