Posted on
Local Harriers Win Own Meet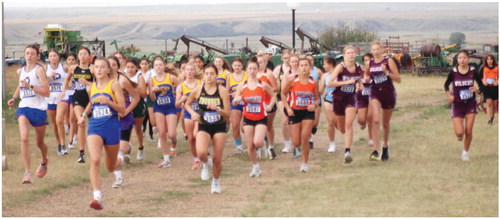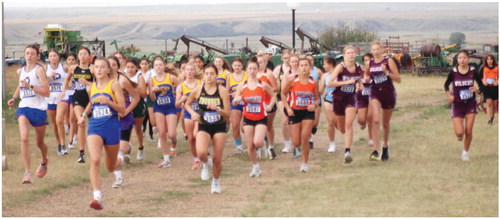 Scobey junior Mya Green was cruising along so well she even passed the golf cart driver leading the races at last week's Scobey Invitational Cross Country Meet.
Okay, that's not totally true, but by the time Green was heading north on the Scobey Golf Course's No. 7 fairway she was waaaaay ahead of the nearest competitor, which was Brynne Hill of the Richey-Lambert Fusion. The golf-cart driver had no choice but to pull over at some point, let Green go on her way, and then guide the remaining 33 varsity runners back to the finish line in Pioneer Town.
Green won it in 21:36.57 while Hill maintained her second-place showing for a time of 23:36.36, just a hair under two minutes.
Not only did Green emerge the victor, so did the Lady Spartans as a team, posting a score of 26 points, just over twice as much as runnersup Circle with 53.
Junior Kazee Trower was next for Scobey in third place, sophomore Oli Leieninger fourth, junior Taizah Hersel ninth, senior Danielle Cahill 15th, freshman Ashtyn Fladager 18th, senior Leah Ridley 20th, junior Grace Williams 25th and freshman Emylee Harrold 32nd.
Things were very much tighter in the boys' varsity race where 8.37 seconds separated first and second place. Kai Thomas, a senior at Trinity Christia...