Posted on
Footballers Look To Lift Their Selves Out Of East C Basement
Are 0-2 After 38-28 Loss To Plentywood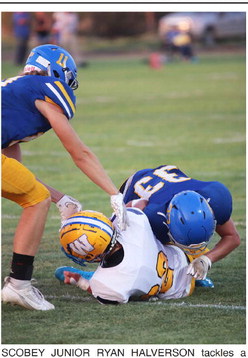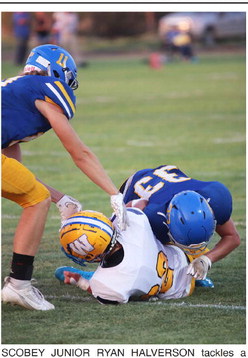 If one is wondering what the turning point of Friday's Scobey at Plentywood football game was, Collin Kyser's fourth quarter pass knockdown near the goal line of a Spartan pass attempt has to be the leading contender.
Then again, perhaps it was the home team's first offensive possession of the second half, where it turned what was a one-possession game since it started into a two-possession cushion.
Either way, the Spartans were on the low end of a 3828 final score.
The victory keeps Plentywood (2-0, 3-0) atop the East C Division, along with Circle (2-0, 3-0) and Fairview (2-0, 3-0), while Scobey (0-2, 1-2) drops into a last-place tie with Culbertson (0-2, 1-2). The Spartans and Cowboys will decide tonight (Thursday, September 14) on Culbertson's CBar- C Field who moves up and who remains in seventh place of the East C Division. Kickoff is 7 p.m. (Radio: KCGM 95.7 FM).
Played on Lincoln Field, last week's game was anything but boring as the two squads combined for 737 yards of total offense, 365 earned by the Spartans and 372 by the Wildcats.
Torsten Lamb recovered an on-side kick attempt at Scobey's 29-yard line to begin the contest but had to punt three plays later, Tyler Leischner booting a 37-yarder coming to a rest at Plentywood's 15.
The Wildcats rushed the ball five straight times to begin the possession before completing a 10-yard pass followed by a 28-yard aerial down to the 2-yard line.
From there quarterback Ben Hagan, playing the pivot position for injured starter Noah Murray, crossed the goal line and added the 2-point conversion for an 8-0 lead.
Plentywood tried another on-side kick but Aiden Norby fell on the ball near midfield.
Two offensive plays later quarterback Bram Handran, who sprained his right ankle on the first series, connected with Braxton Wolfe on a 36yard touchdown pass with Brecken Maher tacking on the 2-pointer making it 8-all.
The Wildcats shot back with a 9-play scoring drive for ...