Posted on
Harrington, Henderson & Wahls Win Healthcare/Foundation Event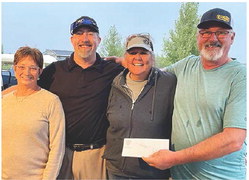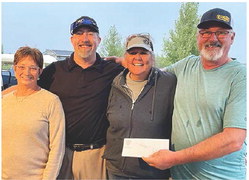 THE CHAMPS! Winners of Saturday's 22nd annual Daniels Memorial Healthcare & Foundation Golf Classic scramble were, from left, Del Henderson, Ryan Harrington, Michelle Wahl and Brian Wahl. — Leader Photo, Roz
The 22nd annual Daniels Memorial Healthcare & Foundation Golf Classic played Saturday, August 12, at the Scobey Golf Course drew 92 competitors for a field of 23 teams.
Topping the list was the Scobey Golf Club squad of Ryan Harrington, Del Henderson, Brian Wahl and Michelle Wahl, who fashioned a 48.54 net score for the victory.
Less than a net stroke behind in second place — .78 to be exact — was the Scobey Golf Club team of Seth and Jacklyn Nelson and Henry and Yvette Vink, who holed out with a 49.32 net.
In third was the Scobey Golf Club foursome of Sean and Lacey Southland and Tanner and LeeAnn Trower, who netted a 52.08.
It wasn't just Scobey Golf Club members on the hunt for birdles as also represented were players from: Airport Golf Club (Wolf Point), Bill...