Posted on
Cross Country Courses . . . from page seven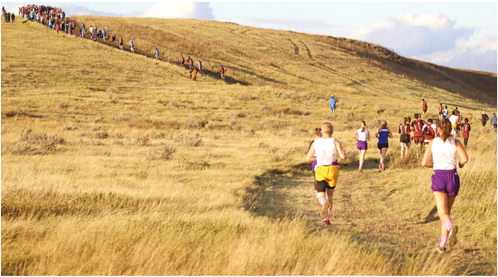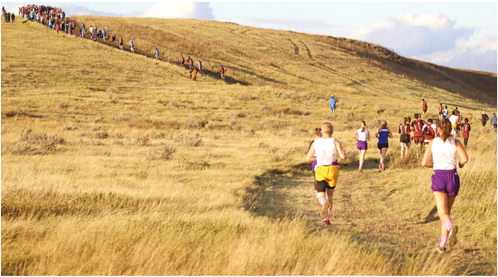 From Page Seven
and head back to the clubhouse area. The whole course is undulating, with a gentle uphill climb to the finish line at the clubhouse.
Darby — It conducts its invitational meet on the Hamilton Golf Club's 18-hole course. Pick up your reading pace and one can discover more details about it under the Hamilton heading.
Deer Lodge — The Powell County Invitational is held at the Grant-Kohrs Ranch National Historic Site, once the headquarters of Johnny Grant's 10-million-acre cattle empire. Runners traverse an all-flat dirt path through a park-like setting chronicling the history of cattle ranching in the American West. Cascade Coach Perry says "It's a great spectator's course and the scenery is spectacular."
Dillon — The meet, set to go this season on Friday, September 15, is run on the Sleepy Hollow Golf Course a few miles north of Dillon. It is a beautiful layout and has a good share of ups and downs for runners to traverse.
Eureka — Lincoln County High School conducts its meet on Indian Springs Ranch Golf Course near Eureka. The cross country course weaves over rolling hills stemming right from the base of the Rocky Mountains and features multiple elevation changes and spectacular views.
Fairview — The course is located at Sundheim Park, about three miles east of Fairview at the bridge going over the Yellowstone River in North Dakota (the town of Cartwright, N.D. is actually closer to the course than Fairview). The course starts on a blacktop trail, loops around the campground, makes its way under the end of the bridge, and then out to some dirt roads winding around sugar beet fields. If there is a congested start, it means a runner needs to explode at the beginning to get a good position early.
Frazer — Located three miles west of the townsite along Indian Highway at Clark's Hill overlooking the beautiful Missouri River, which the athletes run parallel to twice for a short stretch, this intimidating hilly course could possibly be the fan-friendliest in Montana. A spectator can view nearly the entire race from atop the hill where the start/finish line resides on the northeast corner of the course. "Frazer is not an easy course with two long, gradual hills and one short steep hill (Heart Attack Hill) l...