Posted on
Scobey Stingrays Place Fourth In Class AA at State Swim Meet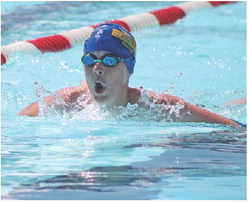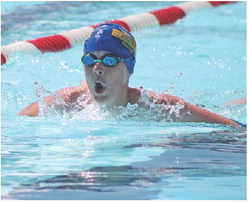 They didn't win the state championship but the Scobey Stingrays have to feel very good about their performance at last week's Montana Federation of Swimmers State Meet.
Held July 29-30 in Conrad the Stingrays placed fourth out of 19 teams and were out-performed only by a trio of cities whose populations and talent pools were nearly five times higher than Scobey (population 997).
The Sidney Tiger Sharks (pop. 6,173) earned the championship with 877 points followed by Columbia Falls (pop. 5,876) with 614 and the Lewistown Sea Lions (pop. 5,801) with 568.
Chinook (pop. 1,254) had a very good showing with 497 points for fifth place.
The Stingrays had 11 athletes earning the title of a state champion.
Individually, 12-yearold Emery Rouse won the 50-meter butterfly in 36.25 seconds. She also placed second in the 50-meter freestyle (31.50) and fourth in the 100-meter freestyle (1:12.80) to tally 35 team points.
Twelve-year-old Reid Cromwell won the 50-meter breast stroke in 43.49 and placed fourth and 10th in his other two individual races for 26 points going to the team effort.
Other big scorers for the Stingrays were 10-year-old Easton Fladager and 7-yearold Harper Hansen, each with two runnersup finishes and a third-place showing for 34 points each.