Posted on
Stingrays Serve Notice They Will Be A Force At State In Conrad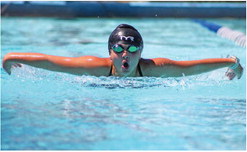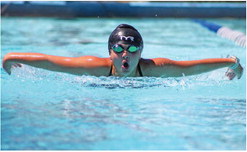 The Scobey Stingrays came out stinging at the East Divisional Swim Meet, scoring 818 individual points and another 148 in the relays for 966 total.
The big team effort in Chinook July 22-23 resulted in a second-place finish out of nine teams, with Sidney placing first.
The Scobey crew is looking for a repeat performance or better at this week's Montana Federation of Swimmers State Meet in Conrad July 29-30.
One of the major highlights from the divisional meet occurred in event #105, which was the ages 15-19 mixed 200-meter freestyle relay. On the roster are 17-year-old Luke Cromwell, 16-year-old Mia Handran and a pair of 15-year-old cousins, Claire Lekvold and Lucas Lekvold. The four broke the pool record with a time of 2:07.90.
The Stingrays also had a trio of swimmers earning High-Point Awards. Sevenyear-old Harper Hansen made a clean sweep of her three races by winning the 100 IM, 25-meter breaststroke and 25-meter butterfly for a perfect score of 42 in the Bantam division. She fell a mere five-one-hundredths of a second (0.05) short of the pool record. She also placed first in her three preliminary races.
Twelve-year-old Emery Rouse and 11-year-old Siri Moran each placed first in two events and second in one for 40 ...