Posted on
Cannonball's 28th Edition Needed 4 Extra Holes To Declare Winner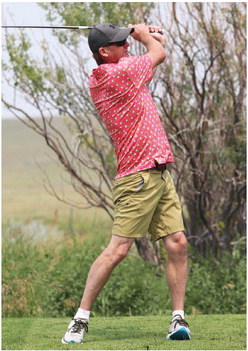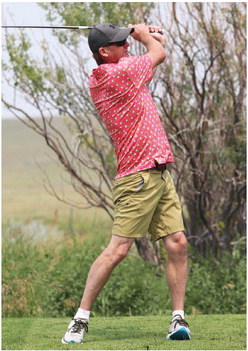 Overtime, quadruple overtime, beyond regulation, call it what you want, the 28th annual Cannon-Ball Member-Guest Best-Ball Tournament needed four extra holes tacked onto the regulation- 6 Sunday night to determine a winner.
Played at the Scobey Golf Course July 15-16, the teams of Jefferson C. Jones II of Scobey-Kyle Cayko of the Sidney Country Club and Garrett Lund (Scobey)-John Ray Richardson of Cherry Blossum Golf Course in Georgetown, Kentucky were both at 126 strokes through 36 holes of action.
So off to the No. 7 teebox they went for a playoff to determine who would end up the champion and runnersup.
They matched each other stroke-for-stroke still tied after making the loop around holes 7, 8 and 9. Finally, back again on the No. 7/No. 16 green for the sixth time over two days the winning putt finally dropped in for Team Jones-Cayko.
It was the third victory in Cannon-Ball competition for Jones, who was also on the championship team in 2020 and 2021. He joins Eli Harmon (2011, 2013, 2015), Ryan Harrington (2012, 2017, 2018) and Robbie Maher (2001, 2006, 2010) as the only Cannonballers to taste victory thrice.
Finishing in a tie for second place were Hunter Buer and his guest, Rushyr Kurtz of Eagle Rock Golf Course of Billings (68-59—127), and Kevin Rassmussen and his guest, Mark Jensen of Wolf Creek, Montana (61-66—127).