Posted on
Fladager, Hansen And Moran Earn High Point Awards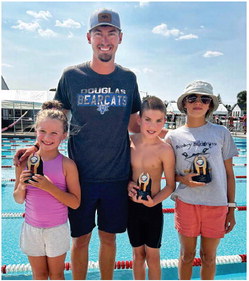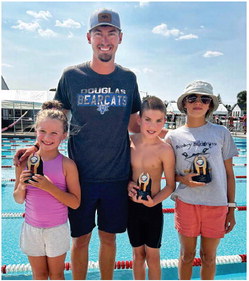 The Scobey Stingrays swim team ventured to the Sidney Meet on July 8-9 to place fourth as a team and have three athletes earn High-Point Awards and a relay team establish a pool record.
Twelve-year-old Siri Moran (an old vet) and 7-yearold Harper Hansen (her first ever) posted perfect scores of 42 points in three individual races to win High-Point Awards. Ten-year-old Easton Fladager had 38 points with a first place and a pair of runnersup finishes.
The age 8 and under freestyle relay team of Baylor Berryhill, Logan Fischer, Sophie McGowan and Rowan Southland produced a pool record.
The aforementioned athletes and the rest of the Stingrays are surely looking to do the same this weekend at the Glendive Meet July 15-16.
After that it is on to postseason action, with the East Division Meet set for July 22-23 in the Chinook pool (We...