Posted on
Cannonball Tourney Tees It Up For 28th Time This Weekend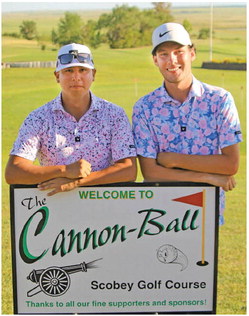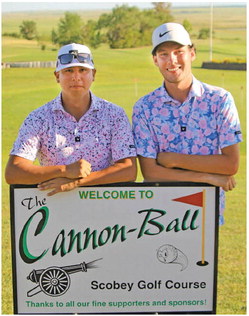 It is the 28th annual version of the Cannon-Ball Member-Guest Men's Best-Ball Golf Tournament at the Scobey Golf Course July 14-16.
The big question is this: can defending champions Peyton Nieskens of Scobey and his guest Jeremiah Whitright of Wolf Point successfully defend their 2022 title when they carded a 6160—121 for a 3-stroke victory?
Only two times in the history of the tournament has a Scobey Golf Club member been on back-to-back winning teams.
Ryan Harrington of Scobey was the first to do it. In 2017 he teamed up with Wolf Point's Brock Copenhaver (63-57—120) and in 2018 he golfed with Brock's brother Easton Copenhaver (61-66—127). Harrington also won it in 2012 with Wolf Point's Rodney Paulson as his partner (61-59— 120).
Seth Nelson of Scobey was the other Scobey Golf Club member to post backto-back wins. In 2020 he teamed with Jefferson C. Jones II (5666—122) of Phoenix, Arizona and did so again in 2021 (61-64—125) with the same partner.
<...