Posted on
Boys Post Very Good Mark, Girls Hold Their Own In Summer Ball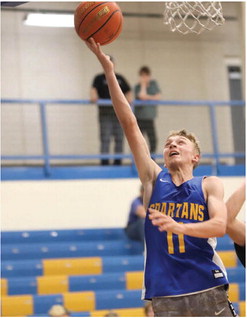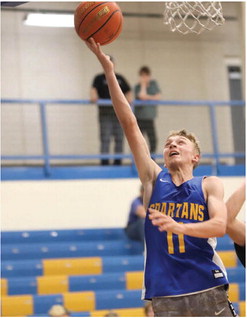 Some where along the way in the world of sports somebody correctly called it: "you are what your record is," whether its great, good, mediocre, bad or ugly.
If that is the case, then the Scobey Spartans late spring/early summer boys' basketball team has to be very pleased after posting many victories (17-3, 1031-770, 51.5-38.5) in last month's four-tournament, 20-game schedule.
They lost to the Lustre Christian Lions in Scobey during game two, won four straight, lost to the Miles City Cowboys by four points in its first game of the Cowtown tourney, won the next 7, lost to Poplar by eight points, then closed out the "season" with five consecutive victories. Those 17 wins came against, in order played: Circle, Shelby, Plentywood, Froid-Lake and Wolf Point in Scobey; Plevna, Fairview, Baker, Hardin, Malta in Miles City; Belt and Wolf Point in Glendive; Belt, Columbus, Laurel JV, Joliet and Fairfield in
Billings.
All of these games were under a tourney format of two 20-minute halves with a running clock until the final two minutes of the game.
The Scobey girls (5-3, 265-188, 33.1-23.5) lost to Circle in its opener in the Williston Tournament, then closed out the event with three straight wins, defeating the Tioga Pirates, Wolf Point and Melstone. In the Glendive Tournament they lost to Malta and Poplar with wins against Savage and the North Dakota Lady Thunder in between. The key takeaway is Scobey allowed an average of 23.5 points per game, which is a very good defensive showing.
Besides open gym throughout the rest of summer and the upcoming Caden Handran Basketball Camp July 24-27 in Scobey, the next scheduled action is the first official practice on Thursday, November 23.
Then it is on to the seasonopening Miles City Tournament December 1-2. In week two the Spartans are scheduled to host the Scobey Tip-Off Tournament December 8-9 featuring the Spartans, Froid-Lake Redhawks, Lustre Christian Lions and Powder River County (Broadus) Hawks.
The first District 3C game is Friday, December 15, in Dodson versus the Coyotes while the initial District 3C game in Scobey is the next day against the Circle Wildcats, which the Montana High School Association moved earlier this year from District 2C into 3C.
Here are the boxscores of the Scobey High School varsity teams of the games held in June:
BOYS Scobey (59) versus Circle Wildcats (42), Fri., June 2, Scobey Tournament. Scobey High School — Scobey: Camden Cromwell 0 0-0 0, Brecken Maher 1 0-0 2, Tyler Leischner 2 0-0 5, Bram Handran 6 0-0 13, John Carney 4 2-2 12; Braxton Wolfe 4 2-2 12, Torsten Lamb 0 0-0 0, Aiden Leibrand 1 0-0 3, Kaz Holum 2 0-1 4, Kolten Machart 4 0-0 8. Totals: 24 4-5 59.
Three-point field goals: Carney 2, Wolfe 2, Handran 1, Leibrand 1, Leischner 1. Fouls: 14. Turnovers: 14. Circle totals: 17 7-17 42. Three-point field goals: 1.
Fouls: 6. Halftime score: 15-14 Scobey.
Scobey (48) versus Lustre Christian Lions (59), Fri., June 2, Scobey Tournament — Scobey: Camden Cromwell 0 0-0 0, Brecken Maher 2 0-0 4, Tyler Leischner 1 0-0 2, Bram Handran 4 0-0 12, John Carney 4 2-6 13, Braxton Wolfe 4 0-0 9, Torsten Lamb 0 0-0 0, Kaz Holum 1 0-0 2, Kolten Machart 3 0-0 6. Totals: 19 2-6 48. Three-point field goals: Handran 4, Carney 3, Wolfe 1.
Fouls: 12. Turnovers: 15. Lustre Christian totals: 21 10-12 59. Three-point field goals: 7.
Fouls: 10. H...