Posted on
Scobey Stingrays Pile Up Points While Hosting 69th Annual Meet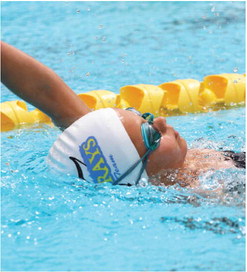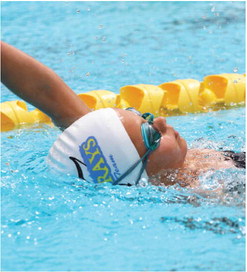 Try as they may, the opponents of the Scobey Stingrays could not top the Scobey Stingrays in their own pool.
When the 69th annual Scobey Swim Meet in Roseland Park came to an end in the afternoon hours of Sunday, June 18, the locals were on top with the most points.
A whopping 932 to be exact!
Scoring big were Easton Fladager (age 9-10 boys, perfect score of 42) and siblings Carter Lekvold (13-14 boys, 40 points) and Harper Lekvold (8 and under girls,
42). All three captured High-Point Awards.
Also racking up the big points in individual races were Camrie Holum and Emery Rouse, both with
38, Ava Stentoft, Evelyn Berryhill, Reid Cromwell and Siri Moran, all with 36, Nate Lekvold 34, Tristan Lekvold 32, Ivy Cole 31, Weston Hardy 30, Daniel Holum, Nolan Kimball, Ariana Maldonado and Arayah Stentoft, all with 28, Ainsley Berryhill 27, Jacob Bekker, Ashtynn Fladager, Harper Hansen and Logan Wolfe, all with 26, and Lucas Lekvold
25. While they were tallying the big points, there were 10 Stingrays in the early stages of cutting their swimming teeth when it comes to being in a competitive setting.
They swam in the preliminaries but did not qualify for the finals. However, one has to start somewhere and that is what Maggie Bekker (age
7), Oliver Brinton (6), Cantyn Crandell (5), Emmett Kimball (5), Sophie Mc-Gowan (5), Jordie Olson (5), Rose Schwartz (6), Rowan Southland (5), Alea Stentoft
(4) and Emma Umitru (5) did over the weekend. Give it time and someday soon
Leader readers will be seeing their names in the scoring section!
The Stingrays of coach Tate Carney have four meets left in the regular season, including: at Roundup June
24-25; at Lewistown July
1-2; at Sidney July 8-9; at Glendive July 15-16. The ...