Posted on
Scobey Girls Tie For Fourth Place, Just 3 Points Away From Trophy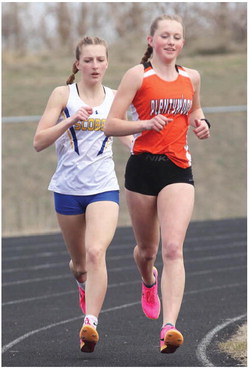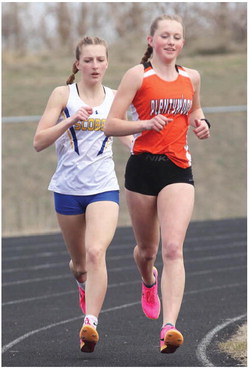 The Scobey High School girls' track and field team wasthisclose to earning the third-place trophy at last week's 52nd annual Class C State Meet at the Laurel Sports Complex.
It certainly wasn't due to a lack of effort on the Spartans' part as they gave it everything they had in scoring 44 points for a tie with the Roberts Rockets at fourth place out of 37 teams.
The Plentywood Wildcats successfully defended their 2022 state championship with a 75.75-point effort followed by the Manhattan Christian Eagles with 66 points and the Savage Warriors third with 47.
On the boys' side, Manhattan Christian ran away with state title by a 33-point margin, scoring 81 points to the runnersup Belt Huskies who tallied 48. The Chinook Sugarbeeters placed third with 42 points while the Lustre Christian Lions finished their very successful season in fourth with 40.
Through Friday's action the Lady Spartans were sitting in fifth place with 17 points while Plentywood was on top at 36, Manhattan Christian 22, Roberts 20 and Seeley-Swan 18.
Over half of those Scobey points were provided by junior Mia Handran. She earned eight of them in the 800-meter run by finishing as the runnersup in a time of 2:17.57, which was just over four seconds behind winner Taylee Chirrick of Roberts. Handran also picked up one point in the 400-meter dash by placing sixth in 1:00.73, with Chirrick again being the victor.
Sophomore Mya Green earned six points by placing third in the 3200-meter run, finishing the 8-lapper in 11:49.31. She was just over 20 seconds behind the winning pace of Plentywood senior Annie Kaul, who will be headed to Montana State University to run for the Bobcats.
The remaining two points from Friday were earned by sophomore Kaytie Aanstad, who flung the discus 107-7.6 feet for fifth place.
Scobey girls were a mere five points back of being tied for second place with Manhattan Christian following Friday's action!
Saturday saw more great performances by the Scobey girls, led by the girl who is not even from Scobey.
The week prior at the East C Divisional Meet in Lambert senior Carrie Taylor of Opheim High School broke Kortney Nelson's 2018 javelin record of 12411 with a toss of 127 feet. Ten days later in Laurel Taylor tossed the spear four feet and nine inches even farther for 131 feet and 9 inches, breaking her own record. Oh, and she placed first in doing so for 10 big team points, bettering Whitewater junior Paige Wasson's 1289, which was good for second place. Talk about a great way to go out as a senior!
Another Scobey star on Saturday was Mady Willis, who, to put it bluntly, got the job done!
All she did was: place fourth in the 100-meter hurdles (16.19, which was slighty over four-tenths of a second behind first!); placed sixth in the 300-meter hurdles, just over 4 and one-half seconds behind Chirrick's first-place finish; helped her 4x400 relay team, which also consisted of Green, Handran and freshman Camrie Holum, secure second place in 4:11.27; place 10th in the pole vault, with seven seniors and a junior finishing ahead of her! Was it mentioned W...