Posted on
Scobey Boys' Golf Team Brings A Trophy Home From State C Meet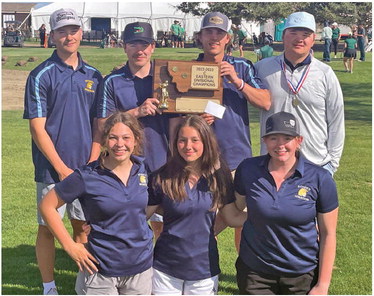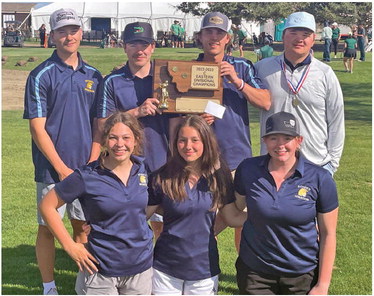 A couple of pressure putts dropping into the cup on the 18th hole of the final day at the 45th annual Montana High School Association (MHSA) Class C State Golf Meet meant the Scobey boys' team would be hauling back home the third-place trophy instead of not.
Played May 16-17 on the 18-hole Anaconda Hills Golf Course in the community of Black Eagle in the northeast sector of Great Falls and hosted by Centerville and Great Falls Central high schools, it was the firstever state golf trophy for the Scobey boys' program.
When it was all said and done late Wednesday afternoon, the Highwood Mountaineers boys' team was the state champion at 253-257—510 followed by the Seeley-Swan Blackhawks as the runnersup at 260-264—524 and Scobey Spartans 257-268—525.
For the girls, the Manhattan Christian Eagles won their sixth consecutive state title with a 301-280—581. Following were the Powder River County Hawks of Broadus at 295-287—582 in second and the Lone Peak Bighorns in third at 300282—582.
On a hot by somewhat windy Tuesday the Scobey boys fashioned a 3-score 257 for second place over the 5,700-yard hilly course, a mere four strokes back of leader Highwood.
Junior Braxton Wolfe, who finished in second place behind Seeley-Swan'...