Posted on
Scobey Girls Place 1st, Boys 2nd At District 3C Track And Field Meet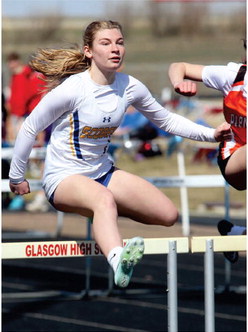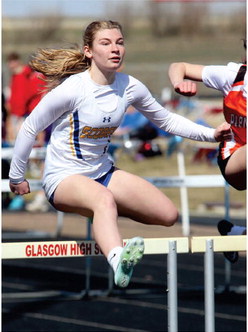 Things get tougher now!
While the Scobey girls piled up 190 points to place first at District 3C Track and Field Meet in Glasgow Saturday, May 13, and the champion Lustre Christian boys and runnersup Scobey boys also posting tripledigit numbers, things now tighten up heading into the next level.
That is the East C Divisional Meet today (Thursday, May 18) at the Lambert Sports Complex in southcentral Richland County, with the shot put starting at 9:30 a.m. and the 100-meter dash at 10 a.m.
The weather forecast as of 11 a.m. Tuesday for the Lambert area is calling for a high temperature of 62 degrees with partly cloudy skies (no word on what the wind will be doing).
All three of the aforementioned teams racked up triple-digit team numbers during their performances at Scottie Field, as did the Hinsdale Raiders girls' team. The Scobey girls posted 190 while the Raiders had 107. The Lustre Christian boys piled up 234 and Scobey 141.
Over in the District 2C Meet held Tuesday, May 9, at the Lambert Sports Complex, the Plentywood Wildcats were the winners in both girls' and boys' competitions.
The Lady 'Cats posted 137.33 points to claim the first-place trophy followed by the Savage Warriors with 116, Fairview Warriors 72, Circle Wildcats 52, MonDak (Westby-Grenora) Thunder 43, Bainville Bulldogs 38.33, Culbertson Cowgirls 32.33, Froid-Medicine Lake Redhawks 17 and Richey-Lambert Fusion 16.
The Plentywood boys finished with 114 points followed by the Culbertson Cowboys with 94, Froid-Medicine Lake 79, Savage 55, Bainville 54, Fairview 53, Circle 34, Richey-Lambert 30 and Westby-Grenora 10.
The top five finishers in each event at the divisional gathering advance to the State C Meets (52nd annual for girls; 68th for boys) at the Laurel Sports Complex May 25-27. It is scheduled to be held in conjunction with the Class A State Meets (52nd for girls, 117th for boys).
Scobey's Mia Handran and Mady Willis were double winners in individual events while both Spartan relay teams finished on top.
Senior Masen Green won twice for the Scobey boys in the two long distance races, edging sophomore teammate Kaz Holum 5:27.97to-5:28.09 in the 4-lap 1600-meter run (the wind played a big factor in the long-distance races throughout the day).
The Lustre Christian boys we...