Posted on
Lady Spartans Tracksters/Fielders Striving For A Trophy In The End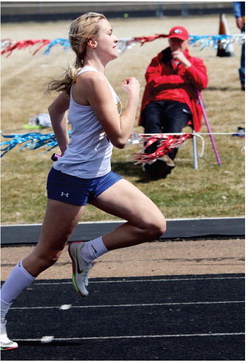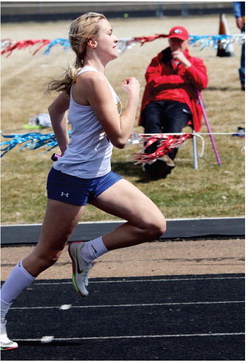 Fourth place? Never heard of it. Fifth place? Huh? Sixth place? Whatcha talking about? Seventh, eighth, ninth, tenth place and beyond?
None of the above are on the collective minds comprising the 2023 Scobey High School girls' track and field team, which, in seven meets this season have never finished below third place.
Now if they can just maintain that pace and add a little extra effort there could be a trophy or two or three awaiting the Lady Spartans down the stretch which has officially arrived in northeast Montana.
Their scorecard thus far this season says they won the indoor meet at The Arc in Williston, North Dakota with 148 points (the fact is they outnumbered the other girls' teams there by a loooooong ways!). At the Wibaux Invite in Glendive they placed second to Plentywood 159-150. At the Northeast Montana Invite the Spartans hosted on Lowry Field in Wolf Point they won with 146 points with Plentywood in second at 125. At the Northeast Makeup Meet in Glasgow they placed second with 98 points to Plentywood's 113. At the 63rd annual Glendive Elks Meet they placed third with 56 points, trailing champ Plentywood with 89 markers and runnersup Class A Hardin with 71.
In last week's action, which was three meets in a five-day span, the Lady Spartans placed third at the 38th annual Norm Girard Northeast Top 10 Meet in Glasgow Tuesday, May 2 (they don't keep score at this meet but the Leader does know how to do simple math addition). They placed first at the Gene Nelson Memorial in Wolf Point Friday, May 5. On Saturday, May 6, at the 27-team, 30-school Sidney Invitational they placed third in the meet, which was postponed on April 22.
Any way one slices it, that is a very successful effort by the local young ladies.
That's the regular season.
Now it is time for the playoffs. The District 3C/2B Meet is scheduled for Saturday, May 13, at Scottie Field in Glasgow, with the first event starting at 9 a.m. Teams competing in the 3C event include the Dodson Coyotes, Frazer Bearcubs, Hinsdale Raiders, Lustre Christian Lions, Nashua Porcupines, Saco Panthers, Scobey Spartans and Whitewater Penguins. Teams competing in the 2B meet at Scottie Field include the Glasgow Scotties, Harlem Wildcats, Malta Mustangs, Poplar Indians and Wolf Point Wolves.
Call it a two-for-theprice- of-one deal.
Following is the East C Divisional Meet Thursday, May 18, at the Lambert Sports Complex in Lambert starting at 9:30 a.m., where the top five in each event advance to the State C Meets (52nd annual for girls; 68th for boys) at the Laurel Sports Complex May 25-27.
It is scheduled to be held in conjunction with the Class A State Meets (52nd for girls, 117th for boys).
Following are the results of the 38th annual Norm Girard (SHS '59) Northeast Top 10 Meet in Glasgow, where the top four individual finishers in each event make the podium. Following are the first place and all Scobey results of the Gene Nelson Memorial Meet in Wolf Point, and the firstplace and all Scobey results of the Sidney Invitational:
NORM GIRARD NORTHEAST TOP TEN MEET Tuesday, May 2, 2023 Scottie Field Glasgow, Montana GIRLS Team scores — Plentywood 100, Havre 72, Scobey 59, Savage 48, Glasgow 38, Whitewater 32, Baker 28, Chinook 15, Fairview 15, Malta 14, Hinsdale 13, Nashua 12, Sidney 12, Garfield County (Jordan) 10, Saco 10, Turner 10, Froid-Lake 9, Bainville 8, Wolf Point 8, Circle 6, Richey-Lambert 4, MonDak (Westby-Grenora) 3, Harlem 2, Culbertson 1, Poplar 1, Carter County (Ekalaka) 0, Dodson 0.
100 (field of 10) — Brooke Reuter, Sav, 13.04; Kaydance Reiter, Hav, 13.26, Josie Brown, Saco, 13.31; Cambry Conradsen, Sav, 13.41.
200 (field of 8) — Brooke Reuter, Sav, 26.14; Kaydance Reiter, Hav, 26.94; Cambry Conradsen, Sav, 26.98, PR (personal record); Josie Brown, Saco, 27.11.
400 (field of 8) — Mia Handran, Sco, 1:00.42, PR; Hailey Berwick, Bai, 1:01.37, PR; Audrey Sampsen, Ple, 1:01.82, SR (seasonal record); Ela Harber, Hav, 1:02.94, PR (other: Camrie Holum, Sco, 1:03.66, 7th, PR).
800 (field of 10) — Mia Handran, Sco, 2:25.75; Tanae Baker, Gla, 2:27.68; Hallie Neibauer, Chi, 2:31.00; Camrie Holum, Sco, 2:31.64.
1600 (field of 10) — Shelbi LaBrie, Whi, 5:15.71, PR; Annie Kaul, Ple, 5:26.22, SR; Mya Green, Sco, 5:36.47; ...