Posted on
Scobey Girls Continue To Finish Near Top Of Heap In Track/Field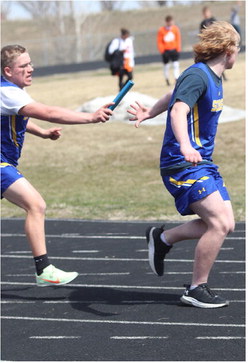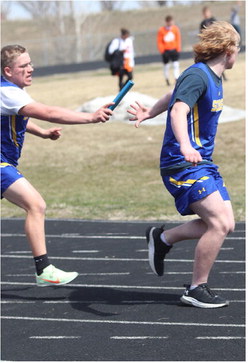 It was originally scheduled as the Glasgow Invitational on Friday, March 31, but funky early-spring weather conditions kicked it into postponed mode.
Twenty-five days later on Tuesday, April 25, it was back on the regular-season schedule and re-named the Northeast Montana Make-Up Meet hosted by the Glasgow Scotties at Scottie Field.
The original field had Class B teams Glasgow, Harlem, Malta, Poplar and Wolf Point plus the Class C squads of Fairview, Scobey and Westby-Grenora.
During the lead-up to the rebooted second attempt, Glasgow track and field head coach Paul Yoakam kept getting calls from other area schools who wanted to be included in the field.
He couldn't so no to the Frazer Bearcubs, Hays-Lodgepole Thunderbirds, Hinsdale Raiders, Lustre Christian Lions, Nashua Porcupines, Plentywood Wildcats and Turner Tornadoes, so the field nearly doubled from the eight orginal teams to 15.
The Lustre Christian boys were certainly pleased with getting their late request accepted due to the fact they placed first with 110.5 points, 17.5 better than runnersup Glasgow.
On the girls side, Scobey and Plentywood went at it again for the third time this season with the winning Wildcats scoring 113 points to the runnersup Spartans' 98. At the season-opening Wibaux Invite in Glendive April 7 Plentywood scored 159 points for first and Scobey 150 for second. Eight days later at the Scobeysponsored Northeast Invitational in Wolf Point the champion Spartans outscored the runnersup Wildcats 146-125.
At Saturday's 62nd annual Glendive Elks Invitational the Plentywood girls again emerged the victor with 89 points while Class A Hardin had 71 for second and Scobey 56 for third.
On the boys' side Dawson County (Glendive) won it with 88 points followed by Lustre Christian in second with 65 and Scobey in 10th with 20.
This week's action has back-to-back meets on Friday, May 5 (field 12 p.m., track 1 p.m.) with the Gene Nelson Memorial in Wolf Point. Teams competing are from Bainville, Baker, Dodson, Frazer, Glasgow, Harlem, Hinsdake, Nashua, Plentywood, Poplar, Saco, Scobey and Wolf Point.
The next day on Saturday is the Sidney Invitational, which was originally scheduled for April 22 but was postponed. It features a 27-team, 30-school lineup, including Class A teams from Custer County (Miles City), Dawson County (Glendive) and Sidney.
Here are the full results of the Glasgow Northeast Montana Makeup Meet's top sixth finishers and all the times and distances of the Scobey and Lustre Christian athletes; following are the Scobey and Lustre Christian results from Saturday's meet in Glendive:
GLASGOW NORTHEAST MONTANA MAKEUP MEET Tuesday, April 25, 2023 Scottie Field Glasgow, Montana GIRLS Team scores — Plentywood 113, Scobey 98, Glasgow 81.5, Fairview 49.75, Hinsdale 33.75, Harlem 24, Turner 23.75, Malta 23.5, MonDak (Westby-Grenora) 21.75, Wolf Point 19, Poplar 14, Nashua 12.
100 (field of 53) — Gina Page, Gla, 14.12; Mallory Tommerup, Ple, 14.14, SR (seasonal record); Mady Willis, Sco, 14.32; Katelynn Folvag, W-G, 14.47; Bridget Reed, Tur, 14.52; Zoe Brandenburger, W-G, 14.55 (others: Olivia Leininger, Sco, 14.73, 8th, PR (personal record) (others: Rachel Pew, LC, 15.73, 25th; Kennadi Cromwell, Sco, 15.95, 27th; Mana Okamoto, LC, 18.86, 45th).
200 (field of 30) — Gina Page, Gla, 28.46; Zoe Brandenburger, W-G, 29.01, PR; Taylor McPherson, Fai, 29.61, SR; Bridget Reed, Tur, 29.68; Allison Kunze, Mal, 29.98; Olivia Leininger, Sco, 30.25, PR (others: Kennadi Cromwell, Sco, 33.17, 16th; Mana Okamoto, LC, 39.87, 24th).
400 (field of 13) — Mia Handran, Sco, 1:01.98, SR; Audrey Sampsen, Ple, 1:02.30, SR; Gina Page, Gla, 1:04.25, PR; Piper Johnson, Gla, 1:04.76, PR; Camrie Holum, Sco, 1:06.40; Ava Lloyd, Gla, 1:08.45, SR.
800 (field of 14) — Annie Kaul, Ple, 2:...