Posted on
Scobey 6th-Grade Boys' Hoopsters Dominate Field At Lil' Roar Event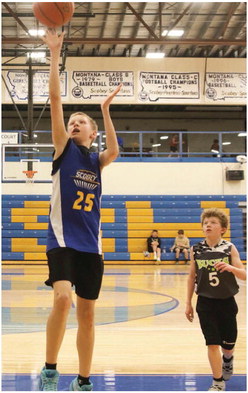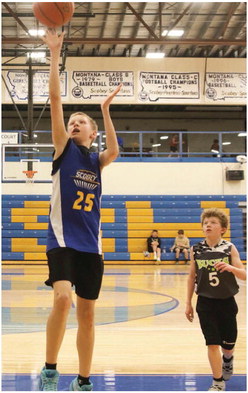 It was unclear what the lead story would be going into the 18th annual Scobey Lil' Roar Basketball Tournament but by 11:15 a.m. Saturday it was discovered — the Scobey sixth-grade boys.
Facing the Wolf Point Thunderbirds on Court 1 (eastside court of Scobey School large gym) the initial notes jotted down on page 23 of the 64-page, 66-advertiser Lil' Roar program produced locally by the Daniels County Leader, were these words: "Very impressive team, very good passers, know how to take ball to basket, love the game, one can tell they have put in the time to be this good, dribble with their head up, not afraid to shoot."
Coached by K.C. Holum, with help from nephew Drew Baldry over the weekend as he was coaching at a track/ field meet in Wolf Point, on the roster are Quinn Axtman (#30), Reid Cromwell (#34), Bryson Halverson (#7), Tyce Holum (#25), Tate Johnsrud (#22), Curtis Leibrand (#39), Isaac Leininger (#12), Simon McGowan (#16) and Logan Wolfe (#23). The majority of them are sixth graders with Leininger, McGowan and Wolfe being fifth graders.
In their 11 a.m. opener Axtman went off for 26 points and Wolfe 12 as they grounded the T-Birds 61-23.
At 2 p.m., also on Court 1, they faced the Plentywood Bucks and it was the Spartans doing the bucking, racing to a 14-4 lead with just over 12 minutes left in the first half. Then it was 18-4 and 23-4. McGowan drilled a left-wing 3-point field goal making it 31-6 before taking the halftime break ahead 41-13.
When the second half began Axtman glided in for a layup and overheard on the court was one of the Bucks saying to his teammate "He's on fire!" Indeed he was, including a reverse layup at the 6:47 mark making it 61-15. Leininger followed with a 14-foot jumper (63-15), Wolfe a layup, left-wing trey and drive to the hoop (70-15), McGowan down low (72-15), Leibrand from the interior (74-15) and Johnsrud capped it with a fast-break layup with 19 seconds left in the 76-15 final.
Axtman finished with 20 poi...