Posted on
Scobey Girls' 2023-24 B-Ball Plan? Move Out Of East C, Into State C!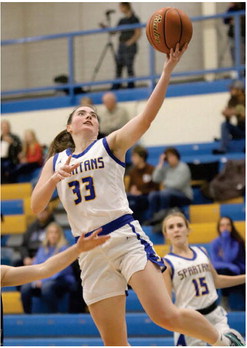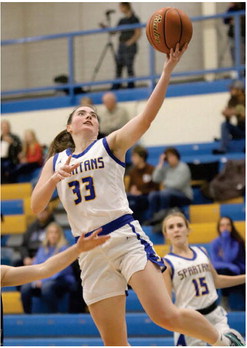 It is quite a remarkable fact to report the Scobey varsity girls' basketball team has never finished lower than third place at the East C Divisional Tournament the past seven seasons.
During the 2015-16 season the Lady Spartans were eliminated from the divisional tourney in two games.
In the 2016-17 and 201718 seasons they placed third at the East C gathering.
In 2018-19 they finally broke through by winning the East C Tournament's championship game with a 46-36 win over the Savage Warriors in Glasgow. A week later at the State C at Four Seasons Arena in Great Falls the Spartans defeated the Arlee Scarlets 65-40 but then fell 60-50 to the Roy-Winifred Outlaws in the semifinals. Following was a 56-38 win in a Saturday morning loser-out contest against the Carter County (Ekalaka) Bulldogs and then a 51-45 victory later that day against Savage to earn the third-place trophy.
The following season of 2019-20 the Scobey girls captured their second straight East C Divisional Tournament championship with a 40-34 win over the MonDak Thunder. At the State C in Missoula the Spartans lost 38-29 to the Belt Huskies, bounced back with a 40-28 win over the Seeley-Swan Blackhawks in a loser-out game and were set to play Ekalaka in a 9:30 a.m. loser-out matchup. That game, plus the rest of the tournament and the other seven state events were cancelled and all the semifinalists were declared co-state champs. Statewide health concerns was the reason. So the Spartans finished sixth in the state.
In the following three seasons, 2020-21, 2021-22 and 2022-23, the Spartans brought back to the Scobey School trophy case the East C Divisional Tournament's third-place trophy.
That's quite a remarkable run, bringing home an East C Divisional Tournament trophy for seven straight seasons (plus one state trophy in that same time frame).
Can the 2023-24 squad keep that run alive?
Considering Opheim High School senior Carrie Taylor is the only player of the Scobey roster graduating this spring, the answer defi nitely is... we wi...