Posted on
Spartans Battle Back From Loss To Place Fourth At Divisionals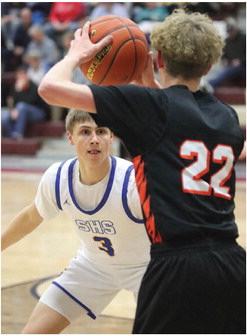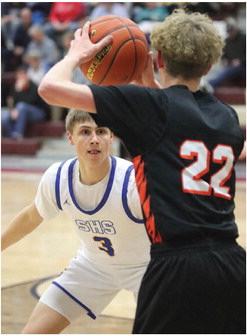 The Scobey Spartans boys' basketball team advanced into Saturday night action at the East C Divisional Tournament by qualifying for the consolation game. Then their season ended when old friend and rival, the Plentywood Wildcats, clawed them 39-24 giving the boys wearing blue and gold the distinction of being the fourth-place team of the tourney. The Wildcats placed third when the Lustre Christian Lions edged the Fairview Warriors 51-50 in the championship, meaning they could not challenge because they lost 52-43 to the Warriors in the first round.
Scobey (12-12, 11471073, 47.7-44.7) opened the East C event against the Bainville Bulldogs in Thursday's final game of the day, tipping off at 8:08 p.m. The largest lead of the contest was 14-6 when Bainville's Charles Butikofer netted a 3-point field goal near the conclusion of the first quarter, other than that this one was tight all the way. There were ties at 2, 4, 14, 22, 39, 41, 44 and 46 and 10 lead changes throughout the game.
During the fourth quarter the lead never strayed outside of a one- or two-point lead and the scoring looked like this: Bainville field goal, 3939; Samuel Butikofer FG, 41-39; Kolten Machart FG, 41-41; Bram Handran FG, 43-41; C. Butikofer, 3-point play, 44-43; John Carney, 1 free throw, 44-44; C. Butikofer FG, 46-44; Handran FG, 46-46; Handran, with seven seconds to go in regulation was dribbling out on the wing, drove down to the baseline, pulled up for a 10foot fadeaway jumper at the buzzer... it's good! Spartans win by tw...