Posted on
Scobey Girls Bring Home East C Trophy For Third Straight Season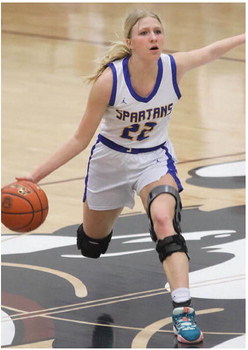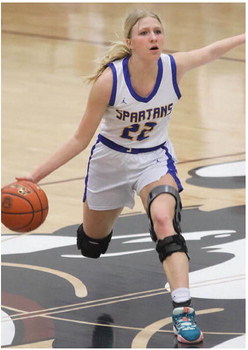 The play of the entire East C Divisional Girls' Basketball Tournament in Wolf Point for the Scobey Spartans?
Hmmm...? Well...? Alright, no more teasing, it was freshman Camrie Holum having a prayer of a shot answered by the basketball Gods as time ran out in overtime against the Circle Wildcats during Wednesday's first-round action.
Circle, which held a 4740 lead inside the final minute of a 4-minute overtime, was at the free-throw line with 4.5 seconds remaining and holding a 48-46 advantage. The free-throw attempt rolled around the rim and Holum uncontestedly grabbed it as the Wildcats were set up in a 2-1-1 threequarter court zone defense behind the free throw shooter. The Scobey frosh dribbled six times while quickly advancing the ball while tightly guarded. She performed the perfect pivot to her right while on the run at full speed and let fly an unbalanced 35-footer just off the chin of the wolf logo at center court. With the ball in mid flight the buzzer blared and a split second later it hit inside the target box of the backboard and ricocheted back to the inside front of the rim, dropping down for the game-winner.
Holum slapped the floor with both hands before literally being mobbed by her teammates near center court celebrating the 49-48 win.
However fortunate that sequence of action played out, in the end, unfortunately, the Lady Spartans (17-7, 1078-874, 44.9-36.4) came up just a little shy of qualifying for the State C Tournament in Billings.
It wasn't for the lack of effort, that is for sure, because Scobey gave it everything it could give, including a near upset of undefeated Plentywood in Thursday's semifinal round. Simply stated, the Spartans played their best basketball of the entire season last week in Wolf Point, but so did the champion N...