Posted on
Scobey Boys Come Up Short In Winning 8th Straight 3C Title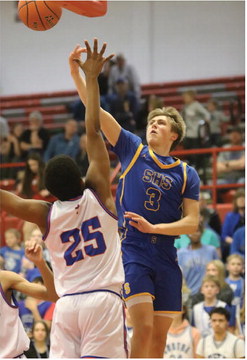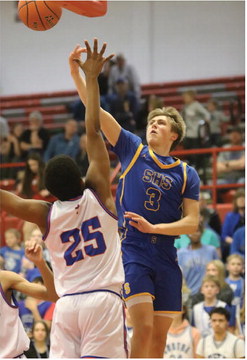 The Scobey Spartans just might be the best Class C boys' basketball team in Montana with a .500 record considering they nearly upset the top-ranked Class C team in Montana.
The place was the District 3C Tournament at Glasgow High School, the game was the championship and the final result was the Lustre Christian Lions remain undefeated.
After coming from behind to defeat the Nashua Porcupines Thursday night in the semifinals, the Spartans almost knocked off the Lions Saturday in the championship game by the closest margin possible.
The good news for all three teams is they live to play another day.
Here are the Thursday, March 2, first-round pairings for the East C Divisional Tournament in Wolf Point:
• Savage Warriors (16-5, 1011-869, 48.1-41.3) versus Lustre Christian Lions (200, 1317-621, 65.8-31.0) at 12 p.m.
• Froid-Lake Redhawks (16-5, 1102-953, 52.4-45.3) versus Nashua Porcupines (14-8, 1185-1064, 53.848.3) at 1:30 p.m.
• Plentywood Wildcats (14-8, 1099-965, 49.9-43.8) versus Fairview Warriors (20-1, 1240-784, 59.0-37.3) at 6 p.m.
• Bainville Bulldogs (138, 1080-1038, 51.4-49.4) versus Scobey Spartans (1010, 977-865, 48.8-43.2) at 7:30 p.m.
L...