Posted on
Scobey Boys Defeat Porcupines By 18 To Earn First-Round Bye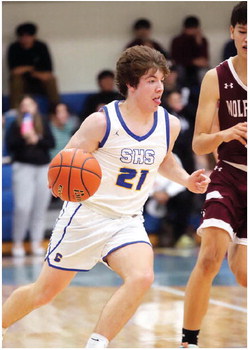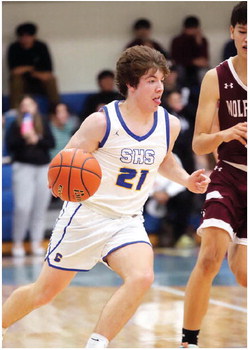 They won the one they needed to win, and did so by a final margin with plenty of room to spare.
Friday night in Nashua the Scobey boys' basketball team avenged a 46-44 loss to the Porcupines in Spartanville January 13 with a convincing 53-35 victory. The Spartans needed to, at the very least, win by two points to create a tie in the District 3C standings for second place between themselves and Nashua. An 18-point difference, however, will do just fine as well.
The victory secured second place in the conference standings for Scobey, which means it has earned a firstround bye and a berth in the semifinals in this week's District 3C Tournament in Glasgow, which tipped off late Wednesday afternoon.
On the upper side of the bracket top-seeded and topranked- in-the-state Lustre Christian (18-0 overall, 10-0 3C, 1217-552, 67.6-30.6) earned a first-round bye. The Lions will face on Thursday at 4:30 p.m. the winner of 4th-seeded Dodson (4-14, 4-6, 805-1056, 44.7-58.6) and 5th-seeded North Country (5-13, 4-6, 774-1077, 43.0-59.8), which were scheduled to tip-off at 4:30 p.m. Wednesday the 15th.
On the bottom side of the bracket second-seeded Scobey (9-9, 6-4, 900-793, 50.0-44.0) gets a first-round bye. The Spartans will take on the winner of 3rd-seeded Nashua (11-7, 6-4, 948902, 52.6-50.1) and 6thseeded Frazer (0-...