Posted on
Lady Spartans Look To Advance Out Of 3C And Into Divisionals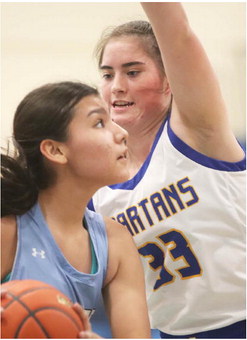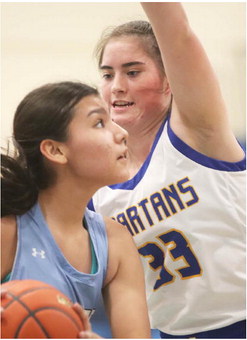 The Scobey Lady Spartans can say bye-bye to the first round of the District 3C Tournament because they are not in it due to placing second in the regular season standings, which means they get a bye right into the semifinals.
To be held at Glasgow High School February 1518, the 2nd-seeded Scobey girls (13-5, 8-2 3C, 813-625, 45.1-34.7) will meet the winner of 3rd-seeded Lustre Christian Lions (6-12, 5-5, 622-842, 34.5-46.7) and 6th-seeded Frazer Bearcubs (4-13, 1-9, 686-973, 40.357.2), who faced each other Wednesday at 6 p.m.
On the top side of the bracket the 4th-seeded Nashua Porcupines (8-10, 4-6, 572-697, 31.7-38.7) faced the 5th-seeded Dodson Coyotes (3-15, 2-8, 638930, 35.4-51.6) Wednesday at 3 p.m. The winner gets to challenge Class C's top-ranked team, the North Country Mavericks (18-0, 10-0, 1085-383, 60.2-21.2) Thursday, February 16, at 3 p.m. in the semifinals.
The rest of the Banjo's Club 109-sponsored bracket advertisement can be seen elsewhere in this issue to follow the whole tourney, with every game aired live on Scobey radio station KCGM 95.7 FM.
The top three finishers at the 3C event will advance to the East C Divisional Tournament in Wolf Point March 1-4, where the top five teams from the District 2C Tournament in Sidney will also advance.
The Spartans began the final week of the regular season in Frazer Tuesday, February 7, which was a make-up contest orginally scheduled for Dec...