Posted on
Opheim's Taylor Beats Buzzer In Her Final Game On Scobey Court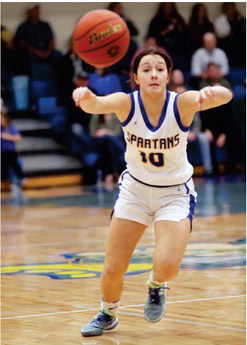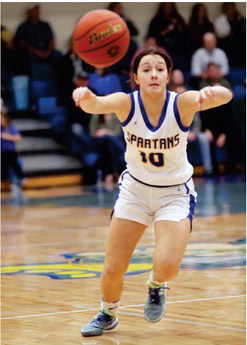 What a way to say good-
bye! Glasgow freshman Joely Chappell had just sank a pair of free throws giving her team a 48-46 lead in the dying seconds of regulation Friday night in the Scobey High School gymnasium. The Spartans inbounded the ball, advanced it to the half-court line and took a timeout. When action resumed Opheim High School senior Carrie Taylor, playing her final home game in the Scobey large gym, passed the ball to freshman Camrie Holum and headed for the top of the key of the east-side basket. Holum passed it back to Taylor and she let the 3-point field goal attempt fly. The buzzer buzzed as the ball was in flight, barely clipping the inside of the front part of the rim.
BOOM!
A 49-48 final for Scobey, sending the very large crowd into a fantastic frenzy, with Taylor literally mobbed by her teammates at center court.
Anybody paying attention knew this was going to be a close game before it even started as the Spartans nipped the Scotties 42-41 in overtime Friday, January 6, on Glasgow's home court.
It was only fitting the team's sole senior took the last shot in her last home game in front of her parents and other relatives in what was Senior Night for her (and Speech and Drama's Angel Lapke and Sammi Lundquist).
It certainly made sense to put the ball in her hands considering ...