Posted on
Scobey Loses To No. 1 Lions, Unload 11 Treys On Thunder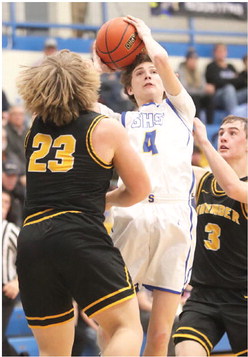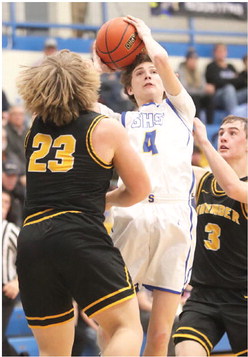 The top-ranked Lustre Christian Lions did it again to the Scobey Spartans in District 3C boys' basketball action, letting the locals hang around before not letting them hang around.
On December 20, 2022 in Scobey the Lions trailed the Spartans 33-32 with 6:24 left in the game, 10 lead changes already established. No. 11 would be the last as Lions roared loud down the stretch for a 46-38 win.
Just over a month later the two squared off again, this time in the extreme northeast corner of Valley County in the LCHS gymnasium.
Scobey took a 4-0 lead on buckets by Luke Cromwell and Boen Tande. The Lions knotted it at 6 on a Cayden Klatt 3-ball from the corner. Then it was tied at 8 through one period of play followed by four lead changes keeping it close. Scobey eighth grader Kolten Machart dropped in a field goal making it 19-all at the half, where the home team had 8 turnovers and 8 rebounds while the visitors had 6 TOs and 11 RBs.
Scobey was right where it wanted to be.
Then it happened. The Lions began playing sticky defense as the third period started while Jasiah Hambira and Braden Ewing netted buckets for a 23-19 advantage.
Cromwell momentarily interrupted the scoring run with a free throw at the 5-minute mark of the third and the Spartans were still in ...