Posted on
Scobey Lads Escape 'Triangle' For Sixth Victory Of Season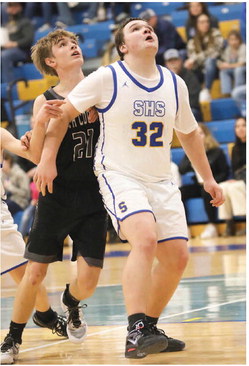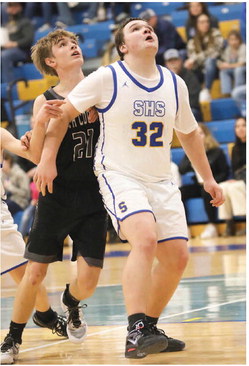 The Scobey Spartans made their annual regularseason boys' basketball trek Saturday to Dodson, also known as Burmuda Triangle of radio sports broadcasting where technical difficulties usually transpire about every other season.
That said, the only major glitch occurring wasn't over the airwaves but Scobey's inability to put points on the scoreboard in the first half, where they trailed the Coyotes 13-9.
Dodson sophomore Junior Stiffarm gave his squad the early lead at 5-0 while Tristan Fladager's 3-point bank shot beat the buzzer making it 5-3 at the first quarter break.
Fladager's layup off a Gage Hallock assist produced the initial tie at 5-all but the Coyotes went ahead 13-7. Kolten Machart, a Scobey eighth grader, sank two free throws at the 38-second mark making it 13-9 at halftime, where the visitors were winning the turnover battle 6-9 and the home team out-rebounding them 17-16.
Scobey freshman Cooper Axtman sank a field goal and Braxton Wolfe converted an offensive rebound into a 13-all score. Boen Tande's 3-point field goal from the left corner at the midway point of the period put the Spartans ahead 16-13, their first lead of the game.
Michael Jaynes, ...