Posted on
Scobey Pushes Record To 6-3 With Wins Over Nashua, WP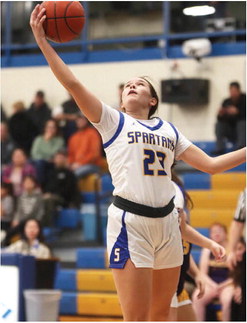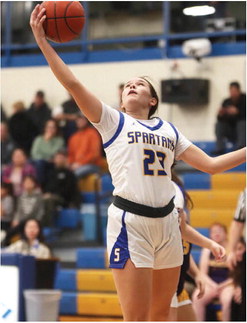 They picked up a District 3C victory Friday night against the Nashua Porcupines but it might have been the non-conference win Saturday night against the District 2B's Wolf Point Wolves that was the sweetest of the two.
The two-victory weekend set gives the Scobey varsity girls' basketball team a 3-1 conference record, with only the top-ranked North Country Mavericks being better at 5-0.
The Lady Spartans raced out of the 6 p.m. starting gate against Nashua and never looked back in a 5714 victory.
The locals used the long ball to set the tone.
Opheim senior Carrie Taylor, the lone senior on the team, knocked down a trio of 3-point field goals and freshman Kennadi Cromwell hit another in the opening eight minutes of play. Sophomore Kaytie Aanstad chipped in with a field goal and freshman Camrie Holum two free throws as Scobey took a 16-4 lead into the second quarter.
The advantage grew from there as Cromwell remained hot from the outside by knocking down two more treys in the second quarter for a 34-7 halftime advantage in an eventual 57-14 win.
Taylor and Cromwell shared high-scoring honors with 13 points each while Aanstad, Dylon Allestad and eighth grader Kayla Carney each produced five points, the latter netting Scobey's seventh and f...