Posted on
Lady Spartans Lose 3C Game, Win Other Two For 4-3 Mark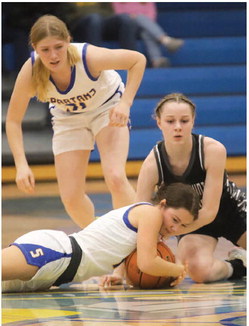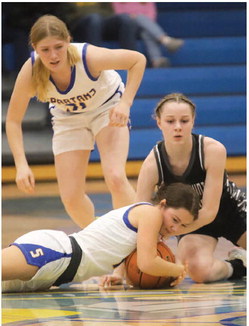 For one quarter of play it was the upset special in the making.
For the following three quarters it was the topranked Class C girls' basketball team in Montana showing exactly why it is the top-ranked Class C girls' basketball team in Montana.
The North Country Mavericks bulled their way through a 17-7 deficit through one period of play Saturday night in Scobey en route to a 61-43 final to remain the team to beat.
The Mavs actually took the early advantage at 5-0 on a 2-point bucket by sophomore Shelbi LaBrie and a 3-point field goal from the left wing by junior Paige Wasson.
A 3-point swish by sophomore Mya Green and a free throw by freshman Camrie Holum closed the gap to 5-4. After Wasson tallied off a turnover making in 7-4, the Spartans went on a run nobody saw coming.
Sophomore Kaytie Aanstad struck thrice from the interior making it 107. After Opheim High School senior Carrie Taylor dropped in a 3-point field goal from the top of the key, North Country drew a technical foul at the 44.7-second mark for having six players on the court momentarily after a substitution. Taylor sank both tech-foul free throws making it 15-7. She then netted a 16-footer at the 26-second mark for a 17-7 advantage at the end of quarter.
How did the North Country kids respond to a situation they are not used to being in during the regular season?
Like a team that is ranked number one in the state, that's how!
Anything you can do we can do better seemed to be the message as t...