Posted on
It's Great To Be Tied For 3C Lead With Very Big Game Approaching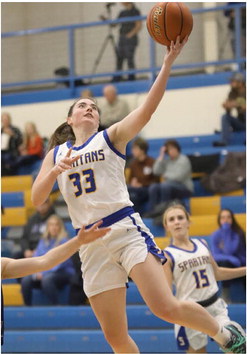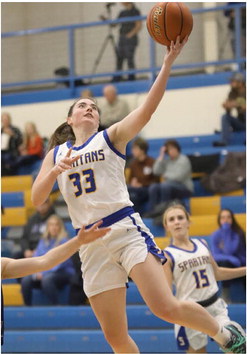 Anyway one slices it, the Scobey girls' varsity basketball team is currently at the head of the class when it comes to the District 3C standings.
After defeating the Lustre Christian Lions 51-30 Tuesday, December 20, in Scobey the Spartans have a 1-0 conference record. They are tied with the top-rankedin- the-state North Country Mavericks (2-0, 7-0, 419158, 59.8-22.5) of the Saco, Whitewater and Hinsdale communities. Both squads open the new year with a non-conference game and then face off Saturday, January 7, in Scobey with the opening tip scheduled for 4 p.m., where something has got to give for one or the other (Radio: KCGM 95.7 FM. TV: Nemont.TV).
The Lady Spartans (10, 2-2, 166-137, 41.5-34.2) blasted out of the starting blocks two Tuesday nights ago by producing an 8-0 cushion in the initial 4:15 against the Lions. Kaytie Aanstad, Scobey's 6-foot-1 sophomore center, opened the scoring nine seconds in with an interior bucket. Camrie Holum, a 5-10 freshman, followed with an offensive rebound putback at the 7:04 mark while Opheim High School senior Carrie Taylor tallied down low making it 6-0. Holum struck again, this time from the baseline, for a...