Posted on
Scobey Boys Split Their Games In Local Tip-Off Hoop Tourney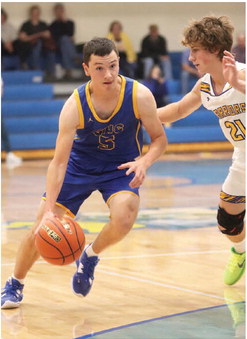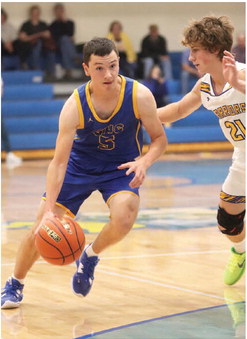 Scobey freshman John Carney wears number one on his uniform and following a season-opening 49-41 victory over the Froid-Lake Redhawks Friday night in the Scobey Tip-Off Tournament he was numero uno in the scoring column.
His nobody-saw-coming 19-point outburst featured five three-point field goals and a couple of deuces, only bettered by Froid-Lake's Mason Dethman's 20-point outing.
It was Dethman's dunk right after the opening tipoff giving the Redhawks the first lead of the contest and his cut through the lane for a 4-0 lead. Teammate Nate Stentoft also used the lane for a 6-0 score in the early going.
A 3-point field goal by Tristan Fladager put the Spartans on the scoreboard but the 6-foot-5 Dethman struck again for another slam dunk and 8-3 lead, which quickly grew to 10-3. Gage Hallock sank a free throw to get within six before Johnny 3-Ball (J3B) connected on his initial trey from the left side with 2 seconds left on the 35-second shot clock.
Dethman and Carney each hit treys to open the second quarter before Caden Kelm made it 15-10.
Then the Spartans began their lift-off to victory.
In order, Carney connected off the glass in the lane, Luke Cromwell and Braxton Wolfe each sank a pair of free throws, Hallock tallied a...