Posted on
Ozark, Beadle Shine A Light On MHSA Football Officiating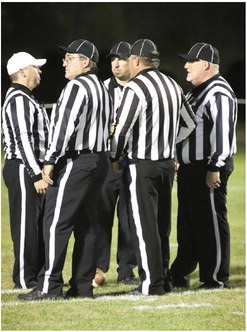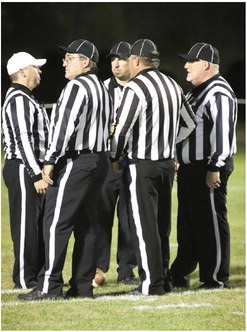 Friday Night Lights
(D.C. Leader Sports note: The following story was written by Gwendolyne Honrud of The Glasgow Courier weekly newspaper. It explains how Montana Official Association members just don't travel to their destination, officiate the game, travel back home and then do nothing until its time to travel and call the next game. There is more to it than just that, which the reader is about to find out. Some Montana high school/junior high football fans are aware there is currently an ongoing officials shortage, which is the reason why the Scobey Spartans had to play two of their games this season on a Saturday instead of the usual Friday night. There was even one instance in Fairfield, Montana this past season where some of the coaches were forced to transition over to officiating a sub-varsity game instead of coaching it due to a lack of officials. As time goes on it will surely get worse unless fans — not all, but some — just can't keep their mouths shut when directing their thoughts to officials. Really, who wants to put on those black and white stripes just to get secondguessed, yelled at and who knows what else? If you have what it takes to be a football official give Dan Schmidt a call at 406-720-0558. Now here is Gwendolyne's great and very timely story).
"Friday night lights in Glasgow is something special."
Though it hardly needs to be spoken, the words of Stan Ozark, a football official for 33 years, should strike a chord in any Scottie football fan. However, for Ozark the statement means so much more.
"That environment. I've done so many games up there [Glasgow's Scottie Field] on a Friday night.
On a beautiful night in September, October, that place is packed. The crowd is loud you can hardly hear yourself. That cannon's going off. You've got a good football game. And I say to myself, 'God, I'm so lucky.
Yeah. I am right here in the middle of all this."
Ask ...