Posted on
'Thank Them For What They Do For This Community'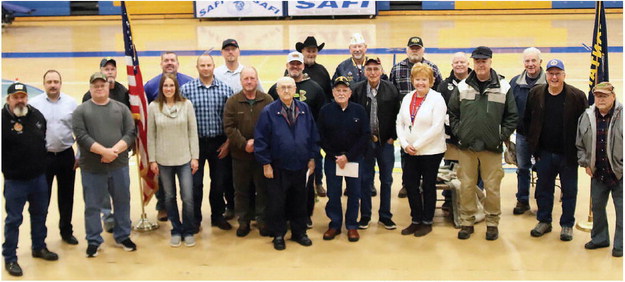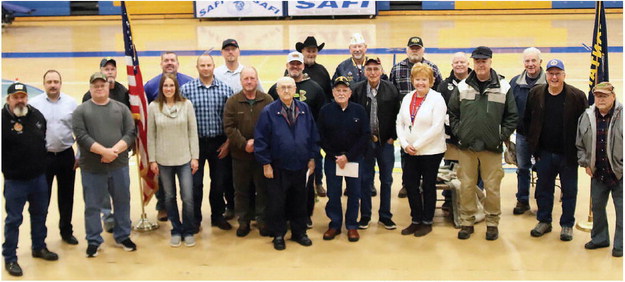 Veterans Day
It was another very large turnout for the fourth consecutive year when the annual Veterans Day Program was held at the Scobey School.
That's what happens when the all or a portion of the student body of the Scobey School partakes in the event in the large gymnasium.
In 2019 an audience of 208 people gathered for the annual event, just over 200 in 2020 and 255 in 2021.
This year's event, held Friday, November 11, came in at a rough count of 332 people!
The welcome, along with the Recognition of Veterans and Introduction of the guest speaker, was performed by Paul Kanning.
Scobey Boy Scout Troop 298 made the presentation of colors while the Scobey High School band performed this country's national anthem, The Star Spangled Banner.
The large audience recited the Pledge of Allegiance while Pastor Charles Kelly gave the Invocation and Benediction. Tell Wilson (SHS '06), who is currently employed by Nemont Telephone Cooperative, Inc. in Scobey, gave the Veterans Day Address at last week's event.
He graduated from West Point in the Class of 2010 with a bachelor's degree in Geospatial Information Science and commissioned as a Second Lieutenant in the U.S. Army as an Armor and Cavalry Officer.
He completed the Armor Officers and Army Reconnaissance Course in 2011 before deploying as a Cavalry Scout Platoon Leader in 2011 with the 2nd Platoon Anarchy Company, 6th Squadron, 4th Cavalry Regiment, 1st Infantry Division. He deployed again...