Posted on
Spartans Close Out 2022 Football Season With Win Against Wildcats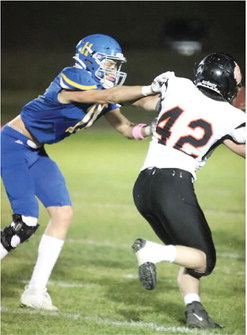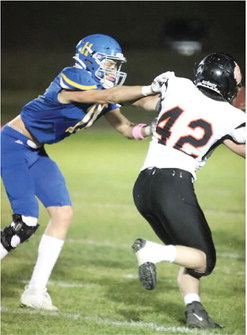 The Scobey varsity football team ended its 2022 season on a positive note Friday night by defeating the Plentywood Wildcats 34-6. Played on Scobey's Plainsmen Field, the 28-point victory gives the locals a 4-3 conference record for fourth place in the eight-team division and 4-4 overall mark. The Spartans tallied 210 points for a 26.2 per game average while allowing 168 points on the defensive side for a 21.0 average.
The boys wearing solid blue with a hint of gold received the opening kickoff and senior Zakariah Traeholt took it 34 yards out to Scobey's own 36. Four plays later it was 4th-and-4 from the Plentywood 38 and a pass fell incomplete for a turnover on downs. The two teams swapped punts on the next two possessions before the Spartans caught their first big break.
With just over four minutes left in the first quarter the Wildcats were pinned down at their own 12-yard line after Boen Tande booted a 34-yard punt. Back-toback tackles for lost yardage, first by Gage Hallock and then Traeholt, led to a Plentywood fumble that sophomore Ryan Halverson fell on at the 11-yard line. Two plays later Tande scampered 13 yards for a touchdown and Traeholt tacked on the 2-pointer for the game's initial lead.
Senior Easton Tommerup returned the ensuing kickoff 27 yards out to the midfield line but by the third play of the possession Hallock sacked the quarterback for a 9-yard loss and the Wildcats had to punt away for the second time.
Scobey drove from its own 15 to Plentywood's 15 in 10 plays on its fourth possession before the drive stalled and the Wildcats took over but ended up punting.
This is when the guy wearing number 13 for the Spartans began heating up.
After Tande returned the 31-yard punt for 12 yards, Hallock's number was called on first down and he took the first-down rush 38 yards for Scobey's second score with 7:56 left until halftime. Traeholt added th...