Posted on
Circle Wildcats Take A Big Bite Out Of Scobey Spartans' Playoff Hopes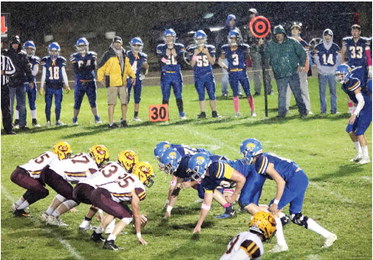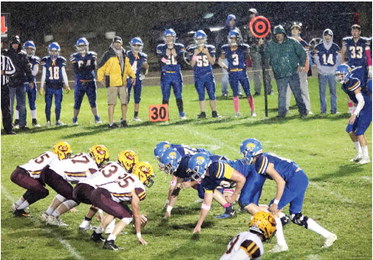 The Scobey Spartans are not officially eliminated from being a playoff team this season following Saturday's 38-28 loss to the Circle Wildcats but they are extremely close.
Scobey (2-3, 2-4, 130156, 21.6-26.0) travels to play the Poplar Indians (05, 0-6, 82-338, 13.6-56.3) Saturday, October 8, for a 3:30 p.m. kickoff on Granbois Field. It closes out the regular season when hosting the Plentywood Wildcats (23, 2-3, 145-169, 29.0-33.8) Friday, October 14. If they win both they have a chance.
Of course, they would need some help from another team: the Circle Wildcats (3-2, 3-3, 218-214, 36.335.6).
The Roundtowners close out the final two weekends of the regular season on their home field against the Carter County (Ekalaka) Bulldogs (2-3, 2-4, 144-206, 24.0-34.3) this Saturday at 1 p.m. and versus the Poplar Indians (0-5, 0-6, 82-338, 13.6-56.3) Friday, October 14, at 7 p.m. Two wins and they are in while the Spartans would miss the playoffs for the first time in seven seasons. The Culbertson Cowboys (5-0, 5-1, 323-123, 53.8-20.5) host the Fairview Warriors (5-0, 5-1, 290-90, 48.3-15.0) this Friday for the outright lead in the East C 8-Player Division. Played in a steady rain falling from kickoff to the 8-minute mark of the third quarter, Saturday's contest on Plainsmen Field was a close one throughout, even when Circle made it a twopossession game with eight and one-half minutes left in the fourth quarter. Scobey took the opening kickoff and marched 65 yards in eight plays to take the initial lead. Big plays near the conclusion of the possession included: quarterback Boen Tande picking up 17 yards on a secondand-15 from the midfield stripe; Taite Weltikol hauling in an 18-yard pass from Tande on a 2nd-and-6 from the 19 creating a first-andgoal from the 1-yard line. On the next play Tande entered the end zone for the initial lead with tailback Zakariah Traeholt tacking on the 2-point rush.
Circle shot...