Posted on
Spartans Maintain First-Place Status ….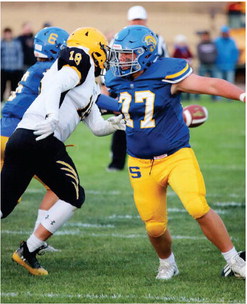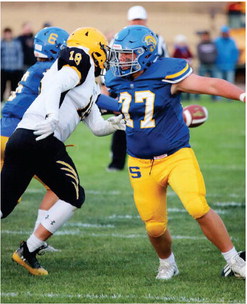 Spartans Maintain First-Place
Status With Win Over MonDak
Things didn't start out well for both offenses when the MonDak Thunder visited Scobey's Plainsmen Field Friday night in an East C 8-Player conference matchup as both fumbled away the ball on their first possession.
By the game's end, however, it was the totalturnover count favoring the Scobey Spartans 4-to-10 in a 46-0 home-opener victory.
Scobey (2-1, 88-48, 29.3-16.0) had two lost fumbles and two turnovers on downs. The Thunder (1-2, 28-104, 9.3-34.6) served up a pair of picks, surrendered the ball once on downs and lost seven fumbles on a dozen total, much to the delight of seniors Tucker Aanstad (2) and Philip Haynes (2), juniors Gage Hallock and Alex Moreno and freshman Cooper Axtman who recovered them.
The Homecoming victory gives the Spartans a 2-0 conference record, which ties them for the league lead with the Culbertson Cowboys and Fairview Warriors. Scobey hosts Culbertson Friday, September 16, at 7 p.m. and travels to Fairview's Starr Field on Friday, September 23, at 7 p.m., so the Blue and Gold face back-to-back big games.
The Spartans, aided by a 10-yard facemasking penalty and a Taite Weltikol 10-yard pass reception for a first downs, committed its first fumble on the sixth play of the drive and the Westby-Grenora squad took possession at its own 32. It didn't last long as the Thunder, on a 1st-and-10 from Scobey's 37-yard line, fumbled and Aanstad fell on the loose
ball at midfield. Hallock was handed the rock on three consecutive rushes for 12, 8 and 5 yards
resulting in a pair of first downs. Zakariah Traeholt, who finished with 144 rushing yards on 22 totes, took the next two handoffs and scored, giving the Spartans a 6-0 lead at the 5:46 mark.
After forcing MonDak into a three-plays-and-punt, which was returned 22 yards by Boen Tande to the Thunder's 25-yard line, Scobey marched down to the 12-yard line and looked as though it was on the verge of adding another six points to its tally. It didn't happen as the Spartans lost five yards and turned the ball over on downs.
MonDak (1-2, 28-104, 9.3-34.6) took possession at ...