Posted on
Scobey Muzzles Bulldogs To Earn Share Of East C Division Lead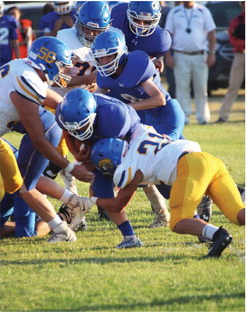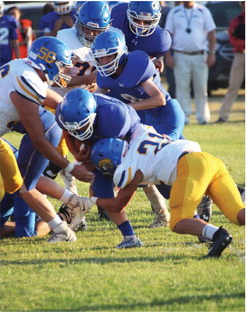 Just like that there is a four-way tie for the lead of the East C 8-Player Division following the second week of game action. The Circle Wildcats, Culbertson Cowboys, Fairview Warriors and Scobey Spartans are all 1-0 in the conference standings but either Circle or Fairview will be dropping to 1-1 after they play each other Friday night in Round Town. Scobey is aiming to become 2-0 in the East C standings when hosting the MonDak Thunder of Westby and Grenora this Friday at 7 p.m. on Plainsmen Field.
In addition it is Homecoming and Senior Night for the Spartans (Radio: KCGM 95.7 FM. TV: Nemont.TV).
Scobey earned its way into the four-way lead of the conference standings by scoring a 36-6 victory Friday night against the Carter County Bulldogs of Ekalaka.
On a sunny, calm, 82-degree evening with a 6:30 p.m. kickoff on Rowley Field, the Spartans caught a break right off the hop as the Bulldogs fumbled the opening kickoff and Gage Hallock recovered it at the Ekalaka 25-yard line. Three rushes later quarterback Boen Tande plunged into the end zone from the oneyard line for a 6-0 lead.
On Ekalaka's initial possession tackles by Tucker Aanstad and Owen Fishell and a 5-yard penalty on the home team made for a 4thand- 9 from the 26-yard line.
The Bulldogs punted for 33 yards and Tande returned it to Scobey's 31, which was strange because Ekalaka rarely punts, usually going for the first down regardless of field position. The Bulldogs were 5-of-11 on fourth-down conversions throughout the night and only punted the one time.
On the initial play of the possession Tande handed off to Gage Hallock and the junior bolted 49 yards for Scobey's second touchdown. Tande passed to Bram Handran for the 2-point conversion and it was 14-0 three minutes and 15 seconds into the contest.
Ekalaka countered with a 15-play, all-rush possession chewing up 8:53 of game clock but the drive ran out of gas at Scobey's 11-yard line.