Posted on
Scobey Stingrays Place Third In Class AA At State Swim Assembly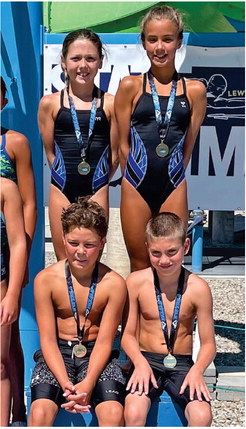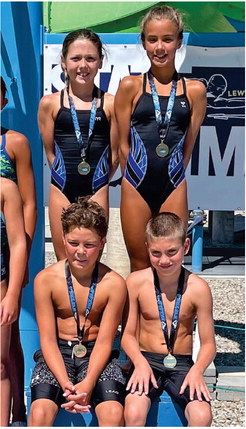 It isn't first place nor second place but the Scobey Stingrays did place third at the Montana Federation of Swimmers State Meet last weekend in Lewistown.
In the top-tier Class AA Division!
In reality, it's old hat for the Stingrays of long-time head coach Tate Carney.
In 2021 Scobey placed second in Class AA. In 2020 the Stingrays placed second in the East Divisional Meet in Sidney but there was not a state meet that season due to health concerns. In 2018 and 2017 the Scobey squad placed third in Class AA.
Some of the big highlights of the Stingrays' huge weekend were:
• the Montana Federation of Swimmers record-setting performance of the 9-10 year old Mixed Medley relay team of Evee Berryhill, Easton Fladager, Siri Moran and Logan Wolfe. With each of the four covering one full length of the pool and each executing one of the four strokes (backstroke, breaststroke, butterfly, freestyle) they did it in 1:18.35;
• the age 8 and under mixed free and medley relays consisting of Harper Lekvold, Ariana Maldonado, Connor Nelson and Seton Wolfe, wh...