Posted on
StingraysDidn't Win It But Did Next Best Thing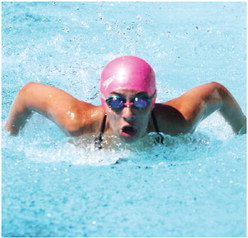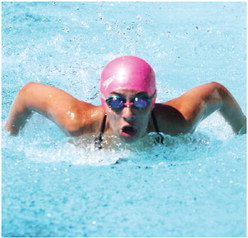 They didn't place first in the team standings of the
61st annual Scobey Swim Meet but the Scobey Stingrays did the next best thing by capturing second.
Held Saturday and Sunday (July 23-24) in the Roseland Park swimming pool the Stingrays piled up
979 team points while the Sidney Tiger Sharks and their significantly larger roster numbers swam away with the team championship at 1,456 points (Sidney's population was 6,346 during the 2020 U.S. Census while Scobey's was 999, which explains the numbers game).
Despite the spread in the rosters, the Stingrays came away from the meet with very much to be happy about.
For instance, Scobey had five High-Point winners:
9-year-old Easton Fladager
(40 points) and 10-year-old Logan Wolfe (40) in the age
9-10 boys; 10-year-old Siri Moran (perfect score of 42) in age 9-10 girls; 12-yearold Kolten Machart in age
11-12 boys (42); 11-yearold Emery Rouse in age 11--
12 girls (42).
Two Stingrays were also involved in establishing four Scobey pool records: Machart in the 50-meter freestyle
(27.94), 100 free (1:03.81) and 200 free (2:29.01); Moran in the 100 freestyle
(1:16.74).
Two Montana Federation of Swimmers records were also established in the Scobey pool by Scobey athletes: ages 11-12 200-meter mixed freestyle of Torsten Lamb, Machart, Rouse and Ava Stentoft (2:09.91); ages
11-12 200-meter mixed medley of Lamb, Machart, Moran and Rouse (2:25.55).
The Stingrays make the short trip east this weekend (July 30-31) for the East Divisional Meet in Plentywood. Following on August 6-7 is the State Meet in Lewistown, a 296-mile oneway haul from Scobey.
GLASGOW SWIM MEET Sat., Sun., June 16-17 Glasgow, Montana Individual Results Charlee Fischer (8 and under) — 25 fly, 51.30, 6th.
Nolan Kimball (8U) — 25 back, 42.55, 12th.
Harper Lekvold (8U) — 25 free, 23.26, 10th; 50 free, 55.88,
7th; 25 back, 29.39, 8th.
Ariana Maldonado (8U) — 25 free, 21.17, 3rd; 25 back, 29.01,
7th; 25 fly, 30.17, 3rd.
Conner Nelson (8U) — 25 free, 26.55, 11th; 50 free, 1:01.03,
12th.
Sawyer Thievin (8U) — 50 free, 58.67, 9th; 25 back, 35.15,
11th.
Adam Bekker (9-10) — 100 IM, 2:19.81, 4th; 50 breast,
1:07.19, 4th; 50 back, 1:10.03,
8th.
Easton Fladager (9-...