Posted on
Esther Fast 1922 – 2022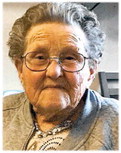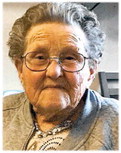 Esther Helen Fast, 100, of Lustre Mt, passed away at Valley View Home on July 6, 2022. She was born May 30, 1922, to Jacob and Lena Fast. She joined a brother, Elvin and a sister, Erma followed.
Esther was a lifelong member of the Evangelical Mennonite Brethren Church in Lustre. She taught children's Sunday school and was active in the women's mission society. She accepted Jesus as her savior at the age of 9 at an evangelistic tent meeting at her church.
She started her education at Center Bell School in Lustre and graduated fr...