Posted on
Stingrays Getting It Done In Pool!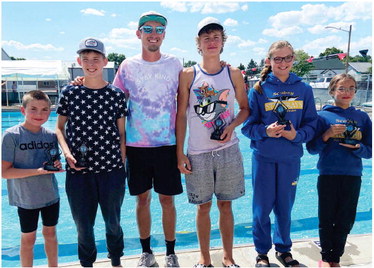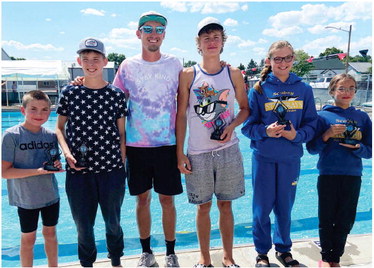 HIGH-POINT WINNERS for the Scobey Stingrays at the Sidney Swim Meet held June 25 & 26 include, from left, Easton Fladager, Tristan Lekvold, Scobey head coach Tate Carney, Kolten Machart, Emery Rouse and Siri Moran. - Photo for the Leader by Danielle Fladager
It has been an eventful two weeks for the Scobey Stingrays swim team with records being broken and high-point winners galore.
At the Glendive Meet of the Montana Federation of Swimmers event June
18-19, where the Stingrays placed third with 499 points, three records were established.
Kolten Machart in the
50-meter breaststroke and Siri Moran in the 50-meter butterfly established new pool records. Machart, Moran, Willa Fishell and Torsten Lamb established a new Federation record in the 11--
12 mixed relay.
The momentum carried over into last weekend's (June 25-26) Sidney Meet, where five Stingrays were high-point winners out of
20 Scobey kids competing. Those five were Easton
Fladager, Tristan Lekvold
(his first High-Point Award ever!), Machart, Moran and Emery Rouse.
The 11-12 age mixed relay of Machart, Rouse, Ava Stentoft and Lamb broke the Federation record in both the freestyle and medley relays.
The Stingrays placed fourth in Sidney despite taking only 20 swimmers and having the sixth most kids out of the teams competing there.
After taking off the July
2-3 weekend, the Stingrays are schedu...