Posted on
Scobey Girls Finish In 7th Place At State, Spartan Boys In 22nd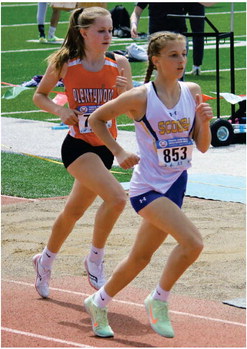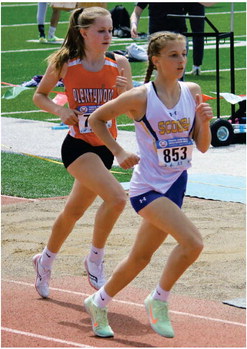 The Scobey High School
girls' track and field team didn't garner a top-3 trophy at last weekend's State C Meet in Great Falls but it did place seventh overall among the 31 teams managing to score at least one point.
Great news is of the seven Scobey girls who qualified to be a competitor last week at the iconic Memorial Stadium, all seven will be back next season, including: seniors-to-be Payton Braut and Opheim's Carrie Taylor; juniors-to-be Kinsey Anderson and Mia Handran, and sophomores-to-be Kaytie Aanstad, Mya Green and Mady Willis!
Stay tuned for some exciting performances from this bunch plus other Spartans working their way up to thrive in the 2023 season.
With Belt losing Lindsey Paulson, who has ties to Daniels County via Peerless, Saco losing Jaycee Erickson and Seeley-Swan losing Sariah Maughan to graduation, it will make it easier for the Lady Saprtans to possibly move up in the final standings.
How high? Who knows! Defending state champion Plentywood will still be loaded with talent (Emma Brensdal, Annie Kaul, Audrey Sampsen) as will runnersup Manhattan Christian (Jadyn VanDyken), Seeley-Swan and Savage (sprinter-Brooke Reuter). Still, expect the Lady Spartans to climb higher on the State C ladder when the event is held May 26-27, 2023 at the Laurel Sports Complex in conjunction with the State A Meet.
The weather report from Friday's competition in Great Falls had the temperature going from 65 degrees at 9 a.m. to 73 by 3 p.m. with winds ranging from 17-25 miles per hour throughout the day under partly-tomostly cloudy skies.
All day Saturday it was cloudy with a high temp of 65 degrees at 3 p.m. but the wind was much more tame between 7-10 miles per hour
throughout the action.
The top finishers for the Lady Spartans was sophomore Mia Handran in the 800-meter run and freshman Mya Green in the 3200-meter run with both placing third.
For the Scobey boys, who tied with Charlo for 22nd place with 6 points, the top finisher was senior J.P. Braut who placed third in the pole vault at 13 feet.
Lustre Christian's Jasiah Hambira scored all of the Lions' 12 points, which was good for 15th place out of 36 teams scoring. He placed third in both the high jump and triple jump.
Here's a look at the top three teams earning a trophy in the other three classifications: State AA — Girls: Helena High 144, Billings West 110, Missoula Hellgate 47. Boys: Missoula Sentinel 89, Kalispell Glacier 80, Bozeman Gallatin 71.
State A — Girls: Whitefish 103, Corvallis 78, Laurel 70. Boys: Beaverhead County (Dillon) 103, Hamilton 91, Whitefish 57.
State B — Girls: Sweet Grass County (Big Timber) 99.5, Colstrip 66.5, Bigfork 49. Boys: Jefferso...