Posted on
Scobey's Wolfe 3 Strokes Away From Playoff, 4 From State Title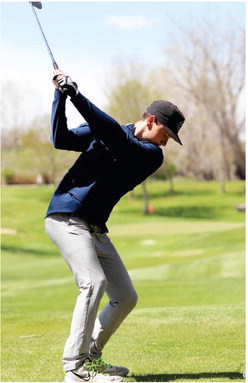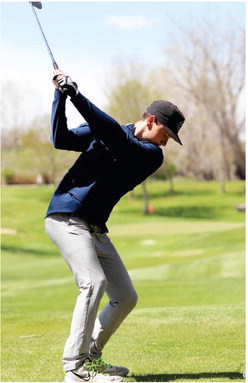 Senior Kylee Anderson Places Twelfth
Ari Nicholas of the Seeley-Swan Blackhawks set the pace and Braxton Wolfe of the Scobey Spartans could not catch him.
However, the rest of the field of 57 could not catch Wolfe, who as a sophomore earned the runnersup distinction at the 2022 State C
Golf Meet.
Held on the 18-hole Sidney Country Club course on Tuesday and Wednesday of last week (May 17-18), Nicholas, a junior homeschooled student allowed to play this season, took the first-day lead with a 9-overpar 81. Wolfe was sitting in second with an 11-over 83 while Cooper Zimmer of Broadus and Dillon Warren of Great Falls Central shot 85 and 86 respectively. The four were grouped together for Wednesday's final 18-hole round and teed off on the 345-yard No. 1 at 9 a.m.
Check that, Windy Wednesday's final round!
At the 9 a.m. shotgun start it was a nice 59 degrees but a strong northwest wind was ripping along at 29 miles per hour. While the temperature rose throughout the day - 60 at 10 a.m. followed by 63 at 11 a.m., 63 at noon, 65 at 1 p.m. and finally 67 at the top of the final hour starting at 2 p.m. - the wind wound down for the most part but was certainly still a factor. By 10 a.m. it was still howling at 29 mph but decreased to 22 at 11 a.m., 18 at noon and 1 p.m., and finally, at 2 p.m., it hopped back up to 21. All the while it was mostly sunny throughout the 18 holes.
Nicholas - with a last name like that how could he lose? - expanded his lead to 3 strokes two holes in but Wolfe brought it back to 2 on No. 4 when parring the 481-yard hole. On No. 6, another par-5 hole, Nicholas caught a bird and Wolfe a bogey, ...