Posted on
Scobey Girls 1st, Spartan Boys 3rd At East C Meet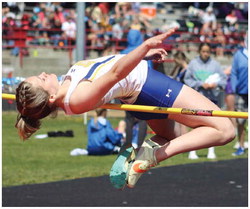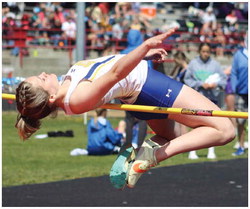 The Scobey girls continue to impress this high school track and field season by emerging the champion of the East C Divisional Meet held last week in Glasgow, departing with a 5-point win over the Saco Panthers.
The Scobey boys weren't far behind, walking away with the third-place trophy with 93 points, trailing only champion Richey-Lambert (103) and runnersup Plentywood (98).
The Lady Spartans realized two first-place finishes: sophomore Mia Handran in the 800-meter run; the very youthful foursome of sophomores Kinsey Anderson and Handran and freshmen Mya Green and Mady Willis in the 4x400 relay, topping Fairview by 2.85 seconds. Scobey also had five second-place finishes for 40 points and three third-place showings for 18 points.
For the Scobey boys, sophomore Gage Hallock was a double winner in the 100- and 200-meter dashes and sophomore Ty Leischner captured the pole vault.
Now it is on to the Class C State Meet at Memorial Stadium in Great Falls May 26-28, which is scheduled to be held in conjunction with the State B Meet. The Spartans departed at 6 a.m. today (Thursday, May 26) for the River City with the payload consisting of these girls: freshman Kaytie Aanstad (discus, shot put); sophomore Kinsey Anderson (4x100 relay, 4x400 relay); junior Payton Braut (pole vault); freshman Mya Green (800, 1600, 3200, 4x400); sophomore Mia Handran (200, 400, 800, 4x100, 4x400); senior Karys Lamb (4x400); Opheim junior Carrie Taylor (javelin); freshman Mady Willis (100 hurdles, 300 hurdles, 4x100 relay, 4x400 relay).
Making the trip for the Scobey boys are: Opheim junior Bo Anderson (triple jump, 4x400); senior J.P. Braut (pole vault, 4x100); junior Masen Green (1600, 3200), sophomore Gage Hallock (100, 200, 4x100 relay, 4x400 relay); senior Josh Hammerly (shot put); junior Philip Haynes (discus); sophomore Ty Leischner (pole vault, triple jump); sophomore Colton Rush (4x100); senior Devon Southland (300 hurdles, pole vault, 4x400); junior Zak Traeholt (100, 200, 4x100, 4x400); Opheim senior Cole Taylor (800, 4x400).
Here are the results of the divisional action:
EAST C DIVISIONAL MEET Wednesday, May 18, 2022 Scottie Field Glasgow, Montana GIRLS Team scores — Scobey 93, Saco 88, Plentywood 85, Savage 73, Fairview 45, Circle 45, Whitewater 36, Culbertson 18, FroidMedicine Lake 12, Nashua 12, Bainville 9, MonDak (Westby- Grenora 8, Hinsdale ...