Posted on
Spartans Compete Very Well At Norm Girard Top 10 Gathering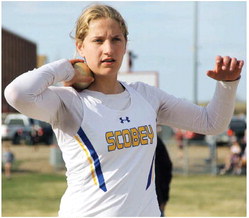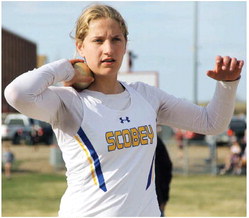 If their performances at three meets last week are any indication, the Scobey High School track and field teams are likely headed into post-season action with
plenty of confidence.
The combined District 3C/2B Meet is scheduled for Saturday, May 14, at Scottie Field in Glasgow as is the East C Divisional Meet on Thursday, May 19. The State Meet is May 26-28 at Memorial Field in Great
Falls.
They have not kept team scores at the Norm Girard Northeast Montana Top 10 Meet in Glasgow in its 37 years of existence but if someone did this season — the Daniels County Leader put its addition skills to work — the Scobey girls placed third and the Scobey
boys seventh.
Using 10 points for first place, 8 for second, 6 third,
4 fourth, 2 fifth and 1 sixth the Plentywood girls won it with 73 followed by Havre 58, Scobey 53.5, Savage 51, Saco 40, Glasgow 37.5, Fairview 36, Sidney 24, Wolf Point 24, Chinook 15, Circle 15, Baker 14, Malta 11, Garfield County (Jordan) 10, Culbertson 8, Poplar 8, Froid-Lake 7, Harlem 6.5, Richey-Lambert 2, Wolf Point 2 and MonDak (Westby-Grenora) 1.
For the boys it was Havre with 96, Sidney 57.5, Glasgow 54, Plentywood 50, Chinook 49.5, Malta 44, Scobey 35, Wolf Point 34, Baker 25, Fairview 17, Lustre Christian 14, Poplar 10, Savage 10, Circle 9.5, Bainville 8, Froid-Lake 6, Richey-Lambert 4, Turner 4, Harlem 2, Saco 1.5 and Culbertson 1.
Some of the highlights for the Scobey girls included: sophomore Mia Handran placing second in the 400-meter dash; freshman Mya Green second in the 3200-meter run; Carrie Taylor third in the javelin; Mady Willis third in the 100-meter hurdles and fourth in the 300 hurdles.
The Lady Spartans shined bright in the two relay races, winning the 4x400 with just under 3 seconds separating them and the runnersup Savage Warriors. It's a very young squad with Kinsey Anderson and Handran being sophomores and Green and Willis freshmen. Anderson, Handran and Willis were joined by senior Karys Lamb on the 4x100 relay team placing third in 53.69, a mere 1.33 seconds behind the winning Havre Blue Ponies!
A few of the top finishers for the boys were: senior J.P.
Braut winning the pole vault at 13 feet with fellow senior Devon Southland in third at 12-6; junior Zak Traeholt second in the 200, trailing winner Brayden Kimberling of Havre by a mere 15 onehundredths of a second; senior Josh Hammerly placing
fifth in the shot put.
Meet action resumed Friday, May 6, at the Gene Nelson Memorial Meet in Wolf Point. The Scobey girls rolled to a big win with 165 points while Glasgow was second with 97. The Scobey boys placed second with 136.5 points while Glasgow won it with 140.5 The next day in Glasgow at the 24th annual Jean Dreikosen Memorial Meet interesting weather halted action about halfway through the gathering. The Scobey girls were first again with 101 points while Glasgow placed second with 43. The Scobey boys placed first by leading Glasgow 97-96 when the meet was called a
final.
Here are the results of the 37th annual Norm Girard Northeast Montana Top 10 Meet in Glasgow, the Gene Nelson Memorial Meet in Wolf Point and the 24th annual Jean Dreikosen Memorial Meet in Glasgow.
Included in the boxscores are all first-place finishers and all the results of the Scobey and Lustre Christian athletes who competed:
37Th ANNUAL NORM GIRARD NORTHEAST MONTANA TOP 10 MEET Tuesday, May 3, 2022 Scottie Field Glasgow, Montana GIRLS 100 (field of 10) — Kaydance
Reiter, Hav, 13.65, 1st.
200 (field of 8) —
Brooke Reuter, Sav, 26.12, 1st, seasonal
record (SR).
400 (field of 8) —
Brooke Reuter, Sav, 1:00.06, 1st, SR; Mia ...