Posted on
Both Spartan Squads Compete Well At Baker Invitational Meet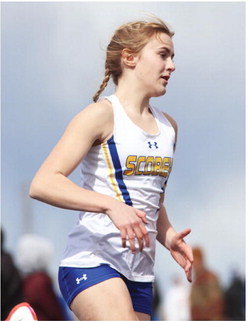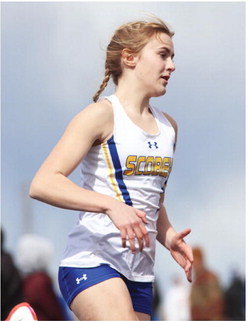 Meet In Glendive Is No-Go Due To Weather
It was another very good week for the Scobey High School track and field teams as both finished high in the team standings at the Baker Invitational and racked up many personal and seasonal records.
Held Saturday, April 9, at Schillinger Field adjacent to Baker High School, the Scobey boys captured third place with 45 points, trailing winner Class B Glasgow (90.5) and runnersup Class A Sidney (71).
The Spartan boys racked up 19 personal-best times, distances and heights and 11 seasonal bests.
The Scobey girls also turned in a fine performance with a fourth-place showing for 54 points. They trailed winner Plentywood (93.5) and Class B Colstrip (68) and Glasgow (64) in the team standings.
The Lady Spartans tallied 16 personals bests and 10 seasonal bests throughout the meet.
Finding the winner's circle for the Blue and Gold was the 4x400 relay team of senior Karys Lamb, sophomore Mia Handran and freshmen Mya Green and Mady Willis. Opheim High School junior Carrie Taylor won the javelin at 109 feet and 4 inches, which was two and one-half feet farther than runnersup Emily Shumaker of Baker.
Four hours into the meet starting at 10 a.m. it was 51 degrees with a 26 miles-perhour wind and overcast; 51 at 3 p.m. with 22 mph wind; 52/28 at 4 p.m. and 55/24 at 5 p.m.
The Spartans were scheduled to compete in another large meet in the same region today (Thursday, April 14). The Wibaux Invitational was set for Perham Field at the Oakland Athletic Complex in Glendive and was to feature 39 teams from 48 schools in Montana and North Dakota. However, the forecast for Glendive on April 14 is a high temperature of 29 degrees above zero with snow in the forecast on the two days prior to Thursday, so it was cancelled.
Here are the results of the Baker Invitational's top six finishers who scored points for their teams and of the other Scobey and Lustre Christian athletes who competed:
BAKER INVITATIONAL Saturday, April 9, 2022 Schillinger Field Baker, Montana GIRLS Team scores — Plentywood 93.5, Colstrip 68, Glasgow 64, Scobey 54, Savage 53, Baker 43, Fairview 43, Sidney 41, Circle 27, Glen Ullin/Hebron, N.D. 19, Dawson County (Glendive) 14, Richardton-
Taylor, N.D. 10, Garfield
County (Jordan) 9, Wolf Point 6.5, Powder River County (Broadus) 4, Poplar 3, Beach, N.D. 2, Custer-Hysham 2, Richey-Lambert 1.
100 (field of 43) — Brooke Reuter, Sav, 13.14; Cambry Conradsen, Sav, 13....