Posted on
Scobey Girls Finish In 3rd Place, Boys In Sixth At Season Opener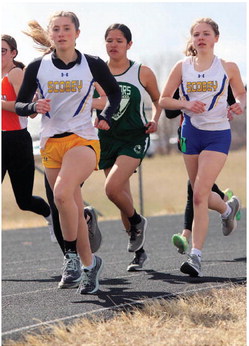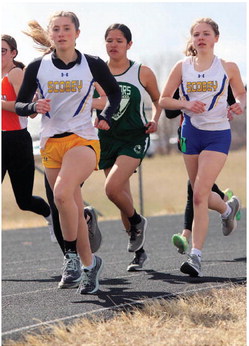 Big Meet In Baker Saturday Has 30 Teams
The Scobey Spartans turned in very favorable track and field results dur ing the season-opening Glasgow Invitational, and that's no foolin' considering the girls captured third place and the boys sixth.
Held Friday, April 1, at Scottie Field adjacent to the Glasgow High School, 28 teams representing 34 communities competed.
In the girls' division the Plentywood Wildcats piled up 192 points for the team victory with the Savage Warriors in second with 110 and Scobey third with 106, edging the host Glasgow Scotties by four points.
On the boys' side, the Havre Blue Ponies with 214 points, Malta Mustangs 162 and Glasgow 158 tallied just over half of the available scoring. Plentywood (92), Lustre Christian Lions (82) and Scobey (78) also scored well to place 4th, 5th and 6th.
Individually, the top finisher for the Lady Spar tans was distance runner Mya Green. The freshman captured first place in the 3,200-meter run in 12:37.93, which was 25 seconds faster than runnersup Samantha Wisher of the Whitewater Penguins.
Another Scobey freshman, Mady Willis, had a great prep debut by placing second in the 100-meter hurdles (17.58) and 300-meter hurdles (51.34), only Plentywood junior Annie Kaul faster in both at 16.53 and 49.45.
Sophomore Mia Handran was also a runnersup by posting a 1:05.51 in the 400-meter dash, Savage sophomore Brooke Reuter
just 1.71-seconds faster.
The top finisher for the Scobey boys was the quartet of seniors J.P. Braut and Reagan Machart, junior Zak Traeholt and sophomore Gage Hallock. In the 4x100 relay they placed first in 46.64 seconds, 1.15 seconds faster than the Class A Havre Blue Ponies. Next was Hallock, a sophomore, who placed second in the long jump at 18 feet and 6.5 inches, only four inches behind Cameron Brusven of Plentywood.
Jasiah Hambira, a junior for Lustre Christian, had a huge day. He placed first in the 400-meter dash (55.49), high jump (5-8) and triple jump (39-9.5) and second in the 200-meter dash (25.24), losing to Havre's Brayden Kimberling by a mere two one-hundreds of a second.
The weather was manageable but not exactly prime-time conditions. It was 38 degrees at the 9 a.m. start, warmed to 49 but still a little windy at 1 p.m. and topped out at 53 at the meet's end.
The Spartans are headed south on Saturday, April 9, for the Baker Invitational featuring 30 teams. The Montana schools competing are Baker, Carter County, Circle, Colstrip, Custer-Hysham, Dawson County, Fairview, Garfield Coun ty, Glasgow, Lame Deer, Lodge Grass, Plentywood, Plevna, Poplar, Powder River County, Richey-Lambert, Rosebud, Savage, Scobey, Sidney, St. Labre Catholic, Terry, Wibaux County and Wolf Point.
The North Dakota schools will be from Beach, Bowman County, Dickinson Trinity, Glen Ullin-Hebron, Richardton-Taylor and Trenton.
The first field event at Schillinger Field starts at 10 a.m. and the initial track event at 10:30 a.m.
Here are the results of the Glasgow Invite's top six finishers who scored points for their teams and of the other Scobey and Lustre Christian athletes who competed:
GLASGOW INVITATIONAL Friday, April 1, 2002 Scottie Field Glasgow, Montana GIRLS Team scores — Plentywood 19...